Mary G. Ross: How She Paved the Way for Native American Women in STEM
The first female Native American engineer was dedicated to social justice causes.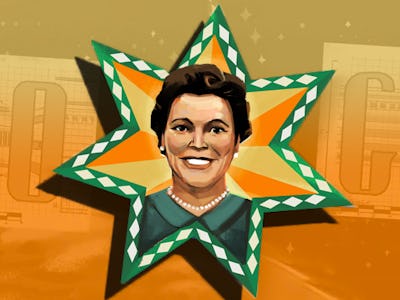 Mary G. Ross, the first female Native American aerospace engineer, was honored for her scientific achievements on what would have been her 110th birthday Thursday with a commemorative Google Doodle. What the discussion around her mathematical space concepts ignores, however, is her contribution to the social justice movement for women in STEM, Native American recognition, and education for underprivileged communities.
Ross helped develop some of the first concepts for flyby missions past Venus and Mars during career at Skunk Works, the classified space project in Lockheed's Advanced Development Program. In 1942, she was hired as a mathematician and later trained to become the only female engineer on a team of 40.
Her preliminary concepts for interplanetary space travel included rockets and defense projects, and without her "pencil pushing," the field of modern space research would look completely different.
How Mary G. Ross Educated Underprivileged Communities
Before pursuing STEM fields, Ross grew up near the Ozark Mountains as the great-great granddaughter of the Cherokee Nation's Chief John Ross. She graduated from Northeastern State teacher's college when she was just 18-years-old, and spent the next nine years teaching in rural Oklahoma communities.
Later, Ross earned a Master's Degree in mathematics at the University of Northern Colorado before switching career tracks at the start of World War II to work on Lockheed's P-28 fighter plane that was approaching the sound barrier.
Why Mary G. Ross Was Committed to Women's Education
As a singular female figure in a team of men, Ross considered herself the "pencil pusher" who relied on a slide rule and Frieden computer to complete equations for operational requirements for the Agena rocket, work that led to NASA's successful Apollo program.
The Executive Director of the American Indian Science and Engineering Society credited her as "just one of the guys" who "held her own" in the male-dominated workspace. Ross herself later talked about how her credibility would be questioned because of her unique status as a woman and a Native American citizen.
Ross didn't take her pioneering role as a female engineer lightly. She established a scholarship in her name for future women pursuing STEM fields — according to the National Science Foundation, only 0.1 percent of scientists and engineers are Native American women.
How Mary G. Ross Honored Her Native American Roots
The Cherokee tribe valued learning, and while Ross pursued a nontraditional path for Native American women, she continued to honor her ethnicity and tribal traditions throughout her career and philanthropy. She even wore a traditional Cherokee dress sewn from green calico, made by her niece, while participating in the opening ceremonies of the National Museum of the American Indian in Washington, DC. Ross was 96-years-old at the time, and left a $400,000 endowment to the museum after her death in 2008.
Before then, after retiring to Los Altos, California in 1973, Ross worked to recruit young Native American women into youth engineering camps. Her membership in the Society of Women Engineers began in the 1950s, and she supported the American Indians in Science and Engineering Society and the Council of Energy Resource Tribes throughout her later life.