InfoWars App Still Available In Apple App Store Despite Podcast Ban
You can still get 'The Alex Jones Show' through the App Store.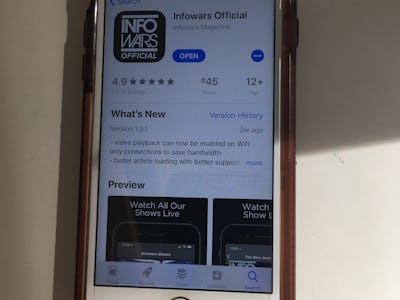 Photo / Ben Goggin
Conspiracy theorist Alex Jones and his InfoWars network have suddenly fallen on hard times in the distribution department, with Stitcher, Spotify, Facebook, YouTube, and now Apple removing some of InfoWars' shows and pages from their platforms, but a quick search in the Apple App Store reveals that InfoWars content is readily available through InfoWars' very own app.
Despite Apple's decision over the weekend to remove some of Jones' shows per its hate speech guidelines, the company still allows InfoWars' app in the App Store, which gives access to the exact content that it banned on iTunes.
The apparent conflict in standards of enforcement highlights the challenges large technology companies will face in enforcing content standards through all of their products and platforms.
The InfoWars App
The app, InfoWars Official, was released in July 2018 and is the first result in the App Store when searching "InfoWars." It already has a place in the top 50 free news apps rankings, with a 4.9 star rating and 2,630 reviews.
The app allows access to InfoWars' full suite of content, including "The Alex Jones Show," among other shows and articles, which has been banned on iTunes.
The app also allows users to purchase InfoWars full line of dietary supplements, which claim to cure conspiracy-related ailments and "rediscover the human blueprint." According to a BuzzFeed News profile of Alex Jones, InfoWars' supplements pull in nearly $18 million a year.
Similar Policies
The presence of the app, raises the question of why it remains available in the Apple App Store despite InfoWars podcasts being banned in iTunes. Apple told BuzzFeed News that it banned the podcasts based on its hate policy: "Apple does not tolerate hate speech, and we have clear guidelines that creators and developers must follow to ensure we provide a safe environment for all of our users."
Apple's policies relating to hate in podcasts are remarkably similar to its App Store guidelines. For podcasts, Apple says it will remove "Content that could be construed as racist, misogynist, or homophobic… [and] Content depicting graphic sex, violence, gore, illegal drugs, or hate themes."
The App Store guidelines read similarly:
Apps should not include content that is offensive, insensitive, upsetting, intended to disgust, or in exceptionally poor taste. Examples of such content include: Defamatory, discriminatory, or mean-spirited content, including references or commentary about religion, race, sexual orientation, gender, national/ethnic origin, or other targeted groups, particularly if the app is likely to humiliate, intimidate, or place a targeted individual or group in harm's way.
Alex Jones has repeatedly produced homophobic and racist content.
While the move to ban InfoWars' podcasts from iTunes shows a large effort by Apple to address fake news and hateful content, the presence of InfoWars' app in the App Store illustrates a problem of consistency of content enforcement that has plagued and will continue to plague large tech companies.
Inverse has reached out to Apple for comment and will update this article with any response.