Patrick Stewart Reveals What 'Star Trek' and 'X-Men' Characters Think of Brexit
Are they Remain or Leave?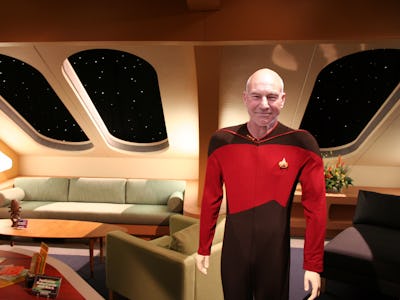 Wikimedia / Loupeznik
Sir Patrick Stewart is known for playing iconic characters in both X-Men and Star Trek, and the actor revealed those characters (while fictional) would take a political stand on politics in the United Kingdom. According to Stewart, neither Jean‑Luc Picard nor Professor Charles Xavier would have stood for Brexit.
The actor attended an anti-Brexit rally Sunday in Camden, London, where he gave a speech in favor of the U.K. remaining in the European Union. The rally was held as part of the People's Vote campaign to "re-vote" on Brexit after many halts followed the original 2016 referendum. Not only is Stewart in favor of remaining in the EU, he even went as far as telling the 1200-plus folks gathered for the rally that his X-Men character Professor X would have voted the same way.
"It is not Charles Xavier standing here in front of you — although I can assure you that if he was, he would have voted Remain," Stewart said. "And why? Because unity, common cause, wellbeing of society and debate were paramount to belief of this fictional character."
The actor went on to tell Sky News there is also "no doubt" his character, Star Trek mainstay Jean-Luc Picard, would also vote for Britain to remain in the EU if he was, you know, a real U.K. citizen. "They are people who believe in the common interest, who have always had at heart the needs of everyone, not just an elitist few," Stewart said. "That's what this campaign is about."
It seems the British public has had a change of heart regarding the Brexit decision. A recent poll showed that almost 52 percent of Brits would vote Remain before the deal is finalized, as opposed to 31 percent still in favor of leaving the E.U.
Sir Patrick Stewart (and his movie alter egos) could get another chance to vote to remain if the People's Vote referendum campaign is successful.