Editor's Savage Notes on Milo Yiannopoulos's Book Revealed in Court Case
Hilarious lessons in how to deliver serious burns without even trying.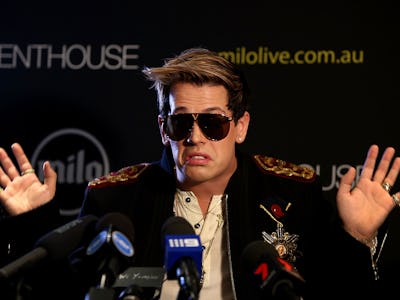 Getty Images / Lisa Maree Williams
On Thursday, Mitchell Ivers' notes on Dangerous, the book penned by right wing provocateur Milo Yiannopoulos, began going viral after they were shared on Twitter. And if there's one thing we can take away from those notes, it's just how bad the book is.
Yiannopoulos, the incendiary former senior editor of Breitbart News, had received a book deal with a $250,000 advance. That was before video clips that suggested his condoning of pedophilia surfaced online in February. The viral video cost Yiannopoulos both his job at Breitbart as well as the deal with Simon & Schuster.
Pedophilia, it seems, was the hard line not to cross at both both Breitbart and Simon & Schuster, since he was already well-known for his controversial views on everything from feminism, to Islam, to social justice, to political correctness. Yiannopoulos had been accused of hate speech (and permanently kicked off Twitter for his harassment of Ghostbusters actress Leslie Jones), and oversaw the spread of fake news at Breitbart.
In response to the cancelation of the book deal, Yiannopoulos self-published Dangerous and brought a $10 million lawsuit against Simon & Schuster this summer. Simon & Schuster then submitted the issues that they had with the book (available in full here) — including the full annotated manuscript, complete with editor Mitchell Ivers' comments.
What might have otherwise been a news item of interest to only the publishing world became so much more with the release of that annotated manuscript, which is both brutally critical and hilarious as it reveals Ivers' increasing exasperation as the document proceeds. His notes are also, unintentionally, full of free lessons on:
1) How to casually deliver a serious burn by simply being blunt.
2) How not to write a book, term paper, or…anything else.
3) Why you should think twice about giving a platform to a known internet troll.
Most of the comments repeat the same issues, indicative of larger problems in both Yiannopoulos's writing and thinking, with the editor asking for proof, citations, or telling Yiannopoulos over and over again that his jokes are not, in fact, funny.
"Not worth the weak joke." "Dumb joke." "Inappropriate place for humor." Those are just some of the words Ivers uses.
Still, quite a few of them are revealingly specific. Inverse has culled the best ones below:
"This entire paragraph is just repeating Fake News. There was NO blood. NO semen and there was NO Satanism. Delete."
"I don't like using Nazi analogies. Ever."
"Don't start chapter with accusation that feminists = fat. It destroys any seriousness of purpose in a chapter that will (obviously) be closely scrutinized by your critics."
"If that headline is hate speech, THIS WHOLE BOOK is hate speech."
"I will not accept a manuscript that labels an entire class of people 'mentally ill.'"
"The use of a phrase like 'two-faced backstabbing bitches' diminishes your overall point."
"The way you casually bring up the KKK makes no sense."
"Paris Hilton is NOT the best authority to quote here."
"Be clear here, don't be supercilious. Do you mean that semen is being mopped up? And that the gay men spilling their seed would have produced gay offspring. Because that isn't true."
In sum, this is what we can learn from Milo Yiannopoulos' failed book deal: Don't be racist. Use humor appropriately. Don't be petty. Provide proof.
Or, maybe, just maybe, don't publish an Internet troll.