Google Search Results on New York Attack Showed Fake News on Twitter, Again
They can't seem to get the algorithm right.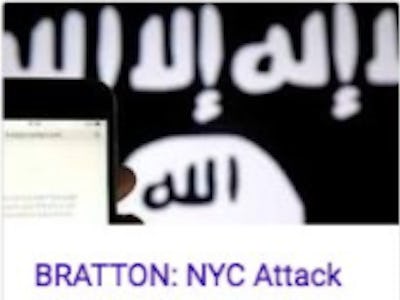 Google News
In the wake of an explosion at New York City's Port Authority Bus Terminal that authorities suspect was an attempted bombing, anyone searching on Google for news about the event early after it occurred would have likely encountered a mix of conspiracy theory tweets, totally unverified claims that are deeply steeped with racist sentiments, and a light dusting of actual news.
This issue, which it appears Google has not yet adequately dealt with, amplifies the voices of people who have been known to propagate conspiracy theories, such as Infowars editor-at-large Paul Joseph Watson.
Shortly after news of the explosion spread, CNET News reporter Alfred Ng pointed out what was happening on Google. His search terms: "nyc attack."
In fairness, former NYPD Commissioner Bill Bratton told MSNBC Monday morning that the "preliminary information" he had acquired from police sources led him to believe the attack was ISIS-inspired, but it hadn't been verified at time of writing.
It's not the first time a proliferation of unverified and inflammatory news stories have popped up on Google in the wake of a scary event. Following the November attack in Texas by shooter Devin Patrick Kelley, people using Google to look for information about the attack were bombarded by fake news and trolls.
After that round of fake news, The BBC reported that, following fake news about the Las Vegas shooting in October, Google claimed they'd improved their algorithms to keep it from happening again.
On Monday, search results did seem to get cleaned up fairly quickly. Between the time these screenshots were taken and the time this article was published, the search terms "nyc attack" yielded considerably fewer presumptive stories. Notice that the word ISIS is missing.