Emotional Jimmy Kimmel Shares Story of Newborn Son's Emergency Surgery
Healthcare, says Kimmel, is bigger than labels like liberal or conservative.
by Kastalia Medrano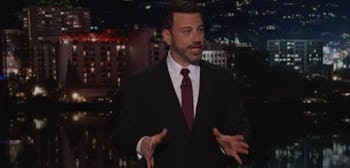 Jimmy Kimmel Live
In an emotional monologue on his show Monday, Jimmy Kimmel revealed that last week his son was born with a heart defect and needed emergency surgery. The 13-minute speech detailed the tense hours and days after the delivery, with Kimmel ultimately urging viewers not to let partisanship prevent Americans from taking care of one another.
His voice wavering, Kimmel told his audience that on April 21, 2017, his wife Molly gave birth to the couple's son, William John Kimmel. (The baby's nickname is "Billy," which is a relief since William is entirely too grown-up a name for a baby.)
"He appeared to be a normal, healthy baby until about three hours after he was born," Kimmel said. "When a very attentive nurse … heard a murmur in his heart — which is common with newborn babies — but she also noticed he was a bit purple."
Kimmel and his wife initially didn't think there was anything wrong (their daughter had had a heart murmur as well). Then, doctors told him his baby's blood wasn't getting enough oxygen.
It's great that Kimmel told the audience right up front that things worked out fine, because things from there got tense and quiet as Kimmel described doctors and nurses rushing in, the room filling with strange medical equipment while he didn't know what was happening.
"It's [a] terrifying thing … my wife is back in the recovery room, she has no idea what's going on, and I'm standing in the middle of a lot of very worried-looking people, kind of like right now," Kimmel said as the audience laughed with a bit of relief.
A pediatric cardiologist was called in; he found that Billy was born with tetralogy of the lobe with pulmonary atresia — a heart disease where the pulmonary valve was blocked, and the wall of the heart has a hole in it. Billy had emergency surgery, and will need at least two more. Kimmel said that he and his wife have since been able to take Billy home, where he is eating and sleeping and peeing exactly as a baby should, and also looks like this:
Kimmel thanked each doctor and nurse by name as he went, before bringing out an actual list of people to thank. He then turned the focus to President Donald Trump, noting that he'd recently proposed billions of dollars in cuts to the National Institute of Health. Saying that health and the ability to care for one's children transcends political party, he urged Americans to focus on healthcare as a bigger picture.
"We were brought up to believe that we live in the greatest country in the world," Kimmel said. "But until, what, a few years ago, millions and millions of us had no access to health insurance at all."
Before Obamacare, babies with pre-existing conditions — like Billy — might never have been able to get health insurance. If their parents were without insurance of their own, Kimmel notes, they might not even live long enough to be denied.
"If your baby is going to die, and it doesn't have to, it shouldn't matter how much money you make."