The Only Thing the Internet Loves More Than Cheese or Beyoncé Is Both
Anyone for a little cheese with 'Lemonade?'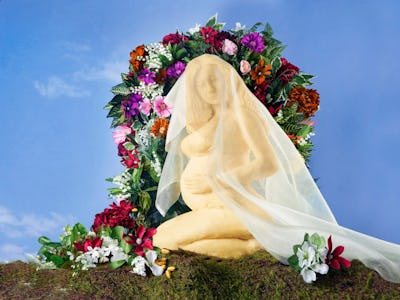 Photo via Twitter / @EastVillageLDN
Here are two things you should never say: "I hate cheese," and "I hate Beyoncé." You'll face some real contempt if you throw serious assertions like those around, but if you're among the 99 percent of the world population who love both, you'll love the cheese statue a genius in London made in Beyoncé's likeness.
Its name? Brie-oncé.
The sculpture was designed to resemble the famous photo Beyoncé released to announce that she was pregnant with twins. It was made for a competition in the East Village Cheese and Wine Festival in London. The sculpture contains 40 pounds of cheddar cheese and took 28 hours to make.
Obviously, when the internet found out about this, everyone went berserk.
Well there you have it, folks: We've finally found perfection.