Facebook Messenger Launches Snapchat-Like 'Day' Feature
The stories expire after 24 hours, too.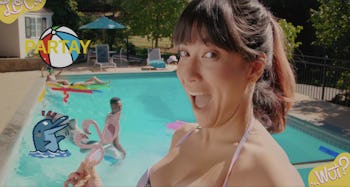 Facebook
Facebook is rolling out changes to its Messenger app, and they sure look familiar to some of Snapchat's features. On Thursday, the company announced that Messenger now has a component called Day, which will allow users to post annotated pictures and videos of their life that disappear after (yep, you guessed it) 24 hours. Facebook unveiled a video promoting Messenger Day, which rolls out globally following the news.
"Messenger is the place a rapidly growing number of us prefer to communicate with the people that matter in our lives," wrote head of Messenger David Marcus in a Facebook post. "We use it to stay in touch, make plans, coordinate things together, and much more. And it turns out that we are choosing to communicate visually more and more — either by sharing photos and videos, or getting together in realtime video chats."
The Day feature comes after a camera was implemented into the Messenger app. Users have also been able to add stickers, doodles, frames, and various special effects to multimedia messages. Now with Day, those sorts of creations will be present on Messenger profiles, much like Snapchat's Stories. Messenger also co-opted the scannable QR codes to add friends.
"Day, as its name indicates is all about your day, and it's meant to enable you to either share context of what's happening in your life today, or kickstart making plans with friends by letting them know what you're up to," Marcus wrote. "We believe that this new capability will make for better conversations, and will prove to be a very useful addition to Messenger."
The video that accompanied the announcement depicts a slew of situations where Day would be useful. For example, knowing who's up and working out so that other friends can join in on the early morning fitness activities. Additionally, a situation where a friend might find out that their buddy's place has a mouse in it, leading to change in meeting logistics.
It's smart of Facebook to cater to how people's online communication is forever changing. However, the basis behind Day isn't exactly theirs. And this isn't the first time that the tech behemoth has essentially cloned Snapchat's components. Facebook-owned Instagram recently introduced its Story function, along with the similar derivative Status on WhatsApp.
Marcus told TechCrunch in an interview, "The two key functionalities is one, I'm going to set context because it's going to make for better conversations. And two, it's about where I want to take my day. I'm bored, I want to go out for coffee. Or, I want to go see a movie. So I'm going to take a frame, take a photo, post it and see which of my friends are going to engage with me to actually make that plan because planning is one of the core capabilities of a messaging app."
But Marcus's expectation that this product change will help people plan seems a little off. Nowadays, it's a pretty well-known social faux pas to post a status along the lines of "someone come hang out with me" unless it's a direct solicitation for a specific event, not simply going out for coffee as Marcus puts it. And rarely do people post on their Snapchat Story like that either. Snapchat's Story is largely intended to be a tool for documenting one's life or showing off. And because you're already at an event and posting about it, there's usually not enough time for a follower or friend to see what's up and try to join in.
Additionally, how Facebook is presenting Day appears messy. As it appears in the video unveiling the feature, all the "normal" people hanging out and posting videos about their day to Messenger are recording in landscape mode. It's common knowledge at this point that vertical video is how most people record on social media. If someone is trying to casually record what's happening, it's usually done vertically because that's the easiest way to hold phones.
It's unclear whether Messenger's Day will be successful or not. Facebook has found success in mimicking Snapchat's features in the past, but not always. Remember its plan to challenge Snapchat with Slingshot? Yeah, neither do we.