How to Make Money Creating Dank Memes
There's various paths to becoming a meme mogul.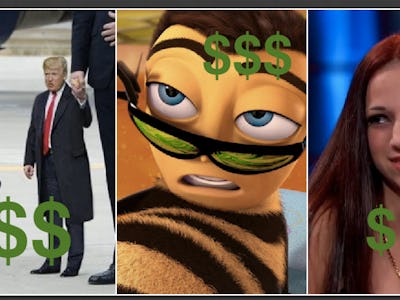 The internet created plenty of new ways to make a buck. There are entire industries that sprouted from the technological advance, including computer engineering and app building, that employ individuals all over the world. Crowdfunding sites such as Kickstarter and Patreon have helped financially back people's creative endeavors. And, of course, now there are a couple of clever ways to make money creating dank memes.
Over the past couple of years, memes have become a cornerstone of the internet. They're everywhere, used by friends to communicate with one another, marketers hoping to reel in digital-savvy generations, and even politicians trying to appeal to younger constituents. Now, some have even turned memes into their bread and butter.
The novice memer might not be familiar with the various meme-and-money-making schemes out in the world wide web. But we've got you covered with some ideas on turning "cash me ousside" into some cold, hard cash:
1. Look For a Fancy New Media Job
So many companies nowadays are looking for hip millennials who get the internet. These sorts of positions take a variety of forms, including community manager positions that include responsibilities such as moderating Facebook comments and viral marketing roles where workers need to think about pushing publicity through social media. And sometimes, a vital component to these positions is creating some dank memes.
Just a cursory search of the term "memes" on websites like Indeed and Monster brings up a slew of results. One opening for a Social Media Specialist lists "generate brand specific short form videos, memes and GIFs" as one of the responsibilities. Better update the special skills section of your resume with "dank meme-making."
2. Go the Artist Route
If working for the main isn't your cup of tea, turn your artistic abilities and love for memes into your own lucrative business. On Etsy, you can sell whatever Pepe plush, Mr. Krabs illustration, or any other meme-inspired creation that you're able to whip up. Other sites like Redbubble allow you to simply make some memes and have the service print the design onto a variety of different items, including T-shirts and hoodies.
There are already plenty of stores on these websites that make money off of memes. Etsy user Memeskins offers knickknacks like mugs with dat boi riding all 'round them and mousepads invoking Nicholas Cage's likeness. Whatever you can create IRL, you can sell.
3. Blog for Some Extra Cash
Then there's the whole internet-famous plan. Build up enough of a following on sites such as Blogger and Tumblr through hilarious memes, and you could make some coins with ad revenue. There are plenty of guides out there on how to put ads on your blog, the easiest being Google AdSense. When people visit your blog, you'll hopefully be seeing some profits.
Unfortunately, this strategy doesn't rake in the big bucks. It depends on how popular your blog is, and how often someone ends up clicking on one of the ads. There isn't a perfect equation to how much you'll be making since there are a bunch of different variables, but there are online resources that might give you some guidance.
4. Apply for Some Sort of Grant
Back in 2011, researchers at Indiana University got a nearly $1 million grant to study memes. The memes they study aren't exactly the ones that you see on your Twitter feed, but rather they're looking at any kind of communication on the internet. However, as dank memes — the kinds that make people giggle while looking at their phone — become even more of a cultural norm, there will surely be smaller grants available that might be rewarded for someone hoping to focus on them.
Additionally, there's a range of art grants that people can apply for. The New York Foundation for the Arts offers unrestricted grants of $7,000. Sure, it's competitive. But if graphic design and memes are your passion, you could be getting financial backing to be making art out to them.
5. Live That "Influencer" Life
"Influencer" is such a buzzword nowadays, with many tenaciously building up their Instagram followings so they can be paid to represent certain brands. Influencer marketing allows these people, who have used their adorable cat with a genetic disorder, or whatever, to monetize.
If you're lacking a diseased pet, you can always try becoming a massive meme account like thefatjewish or girlwithnojob. Many of these accounts unabashedly steal memes without crediting them to create brand recognition and then go off and work on other projects they're actually paid for. Making memes for Instagram might not get you directly paid in money, but it's an avenue for future business opportunities. It's like getting paid in experience — guess you could say being Instagram famous is the new unpaid internship.