FUTURE CITIES | Rio de Janeiro
The Olympics are over, and the Cidade Maravilhosa needs to find a way to light itself without a torch.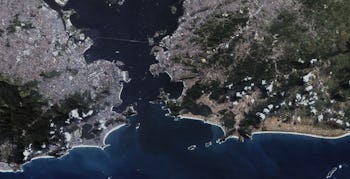 NASA
It's been a turbulent few years for Rio de Janeiro. After hosting both the 2016 Olympic Games and the 2014 FIFA World Cup, amidst growing political and social unrest, the city must be in need of some time to recuperate by now. But while the summer's festivities promised to be the most sustainable ever, the challenge to transform Rio into a hub for sustainable innovation is only just getting underway.
Last month, oil giant Shell hosted a festival in Santa Marta — one of Rio's urban slums, known as "favelas." Targeted by a police "pacification" program and a favela painting project, Santa Marta's economy is now driven by tourism, not crime. British pop star Pixie Lott and Nigerian afropop singer Yemi Alade were among the guests brought together to raise awareness around eco-friendly solutions and sustainable innovation. The image most of the world has of Rio's slums is one of striking deprivation, poor living conditions, and low levels of education. Shell's festival fought back against that depiction. Though the event was a transparent attempt to generate positive PR for the oil titan, it also proved to be an encouraging showcase of bright ideas.
The festival was staged as part of Shell's #makethefuture campaign, a global drive to bring attention to innovative energy solutions. Among the technologies on display was GravityLight, which uses a pulley system to generate light, and could replace the harmful and wasteful use of kerosene in lamps.
"City populations across the world are growing rapidly. With Rio already consumed by over 6 million people, there's an unending resource to help sustainable energy innovations work effectively," says Laurence Kemball-Cook, CEO of Pavegen, a technology company that converts people's footsteps into electrical power through paving slabs.
In preparation for the 2014 FIFA World Cup, Pavegen used its technology to assemble a soccer pitch in the Morro da Mineira favela that was powered by the movement of the players, a project unveiled by soccer legend Pele.
Given the built-up and congested nature of urban environments, land intensive solar and wind projects aren't the most viable power sources for cities. This idea was the main motivation behind Pavegen's innovative approach to energy. "Pavegen thrives on crowded places for its style of energy generation. It's well-suited to overpopulation and the urban environment generally," says Kemball-Cook.
For favela residents, access to power is about more than meeting household utility needs. Having readily available energy also facilitates community building. "Pavegen allowed a deprived community to play football and have leisure time after dark, as most people in the favela didn't have access to a constant power source," Kemball-Cook explains. "It was a great opportunity to see the favela involved and engaged with renewable power — it was the first time they'd seen power generated from footsteps!"
Pavegen is just one of the sustainability and "cleantech" teams that became involved in Rio-based projects around the 2014 World Cup and this year's Olympic Games. Shell themselves have also been investing in simple but important solutions such as Insolar who are working on solar panel technology and have fitted photovoltaic panels to the roofs of buildings in Santa Marta, allowing residents to take advantage of energy generated by renewables. For some, this is their first experience of having electricity at home.
On paper, sustainability was a central feature of the blueprint for the Rio Olympics. With approximately 85 percent of Brazilian electricity coming from renewables, primarily hydropower, it seemed certain that the games would be lit by clean sources. However, the city faced a torrent of criticism for its overly ambitious plans and largely failed to take green measures beyond sourcing energy from the grid. Only one sporting venue, the Arena Corinthians, installed light emitting diode (LED) lights for the games. The bulbs use anywhere between 25 and 80 percent less energy than traditional lights, and are among one of the simplest energy-saving measures to implement.
"There are a lot of challenges in Rio concerning water treatment and renewables. In particular, there were a lot of discussions before the Olympics concerning the condition of Guanabara, a bay area near the city," says Ilkka Homanen, head of cleantech industry at Finpro, a Finnish organization that operated projects in Rio to promote and explore sustainability during the Olympics. These type of issues exist in many big, urbanized capitals. Transitioning from non-renewable energy generation towards renewables is very important in those circumstances."
Issues of waste and water quality plagued the games throughout, but in their aftermath, some positive developments have been set in motion. For example, the Future Arena, where handball games were held, is set to be dismantled and used to build four city schools. The 300 acres of land that make up Barra Olympic Park are going to be turned into public green spaces and private developments. But, aside from these projects, little is known about how Rio plans to move forward post-Olympics.
As the eyes of the world turn away from Rio, the city must evaluate whether it will pursue the promises it made under the spotlight. Will it veer from the sustainable path it set out prior to the Olympics, or fall victim to environmental hazards of its own making? In the face of rapid urbanization, onlookers can only hope that Rio continues to develop sustainable power solutions, and thrive like never before.