Florida Just Legalized Marijuana for Millions More Patients
We're all going to need it after this election is over.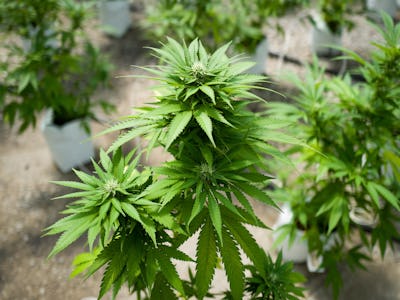 Getty Images / Drew Angerer
On Tuesday, Florida voters legalized a constitutional amendment that made using marijuana for certain medicinal reasons completely, 100 percent legal. With 70 percent of polls reporting, Florida Amendment 2 is leading 71 to 29 percent in favor. But before you break out the bong and blaze up, take note: It's not a free-for-all yet.
Florida Amendment 2 stipulates that patients with medical diagnoses of certain diseases can obtain a license to use marijuana. Prescription cannabis was already legal in the state, but only for patients who had cancer, severe muscle spasms or other terminal conditions that doctors deemed untreatable. Under Amendment 2, that list of diseases got a whole lot longer. It also lets doctors prescribe weed if they determine that a patient is suffering an equivalent amount to one of the listed diseases.
Under the new amendment, patients with cancer, epilepsy, glaucoma, HIV, AIDS, post-traumatic stress disorder, amyotrophic lateral aclerosis, Crohn's disease, Parkinson's disease, and multiple sclerosis can all obtain a license for medical marijuana.
This would finally make medical marijuana accessible to a much wider demographic of patients in the Sunshine State. Contrary to public opinion, medical marijuana users aren't all couch-dwelling stoners faking glaucoma. There's a very real need for patients of many diseases, including PTSD, to have access to legalized bud. Veterans of the wars in Iraq and Afghanistan have soaring rates of PTSD, yet it's still unavailable across the board on the federal VA healthcare system.
Advocates for the amendment like Martha Baker, president of Service Employees International Union Local 1991, say that it "puts medical decisions back in their proper place — between patient and doctor," rather than between patients and policymakers. Opponents, like Diane Ramseyer, executive director of Drug Free Charlotte County, maintain that medical cannabis would "normalize" drug use in children.
Regardless of the outcome of tonight's Presidential election, Florida just got a lot more dank.