Explorer Henry Worsley Dies During Unaided Trek Across Antarctica
Just 30 miles from the South Pole, Henry Worsley succumbs to exhaustion, dehydration, and infection.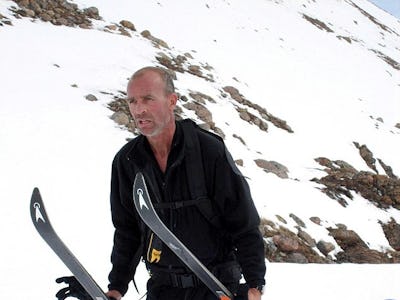 The Guardian
In his attempt to become the first person to complete a solo crossing of the Antarctic, British explorer Henry Worsley died on Sunday, just 30 miles from the end of his journey to the South Pole.
Over the course of his 71-day expedition, Worsley traveled more than 900 miles before succumbing to organ failure.
The 55-year-old was suffering from bacterial peritonitis, a condition that occurs when the abdominal lining becomes infected. When Worsley found himself in the middle of a blizzard and his health continued to decline, he sent one final message before being airlifted off the ice to the Clinica Magallanes in Punta Arenas, Chile:
"The 71 days alone on the Antarctic with over 900 statute miles covered and a gradual grinding down of my physical endurance finally took its toll today, and it is with sadness that I report it is journey's end — so close to my goal."
During the most trying moments of his journey, the former British army officer was likely motivated by his philanthropic efforts and altruism, raising $140,000 for wounded soldiers and veterans. Before embarking on his final journey, Worsley told the BBC: "There is no black art to driving one ski in front of the other. What is driving me on is the money for these wounded soldiers."
After spending two days unable to move from his tent, Worsley ended his attempt to complete idolized explorer Sir Ernest Shackleton's unfinished journey to the South Pole. Unfortunately, the infection Worsley incurred was too severe and doctors were unable to control its spread. Worsley died on Sunday morning.
He received support from several high-profile Britons, including David Beckham:
And Bear Grylls:
The news of Worsley's passing devastated his community of friends and colleagues. Bear Grylls, Beckham, and others took to social media to show their support, solidarity, and sadness over such a profound loss within the exploration community.
Worsley's goal was to raise money for the Endeavor Fund, a charity managed by the Royal Foundation of the Duke and Duchess of Cambridge and Prince Harry. Prince William, Worsley's friend and supporter said in a statement:
"Harry and I are very sad to hear of the loss of Henry Worsley. He was a man who showed great courage and determination and we are incredibly proud to be associated with him. We have lost a friend, but he will remain a source of inspiration to us all, especially those who will benefit from his support to the Endeavor Fund. We will now make sure that his family receive the support they need at this terribly difficult time."
As for future solo expeditions across Antarctica, true firsts are more difficult to come by, and the willingness to go to extremes are becoming more of a necessity. Two of Worsley's predecessors, Norwegian, Borge Ousland and British explorer, Felicity Aston, have successfully completed unsupported crossings of the continent, however, unlike Ousland and Aston, Worsley went without the help of supply drops or kites to propel cargo. It seems that the same applies for both past and forthcoming solo journeys, that the significance of such ambitious expeditions are not measured by their completion but rather, their ingenuity and immeasurable courage, of which Worsley wholly succeeded.
The former British army officer is survived by his wife, Joanna, and two children.