'The Conjuring 2' Teaser Will Haunt Your Dreams
Director James Wan and characters Ed and Lorraine Warren are back with a new ridiculously scary ghost to investigate.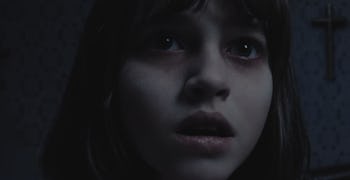 www.facebook.com/The-Conjuring-2-Enfield-Poltergeist
You may remember director James Wan's name — he only directed Furious 7, one of the highest-grossing movies of all time. Wan's installment of the Fast & Furious franchise was the richest to date despite a difficult, tense shoot following the shocking death of actor Paul Walker. The filmmaker, actors, and crew soldiered on to deliver a hit, and though he was asked back to direct the next Fast & Furious sequel, but Wan declined.
Instead, Wan opted to direct The Conjuring 2. Thanks to Warner Bros., we now have our first look at the trailer for the creepy continuing adventures of characters Ed and Lorraine Warren. It looks like he's got another hit on his hands:
Did you forget to breathe? The trailer for the sequel to the 2013 original, which was also directed by Wan, achieves supreme creepiness with nothing but old school title cards, clever cutting, rattling crosses, the increasing ticks of a zoetrope, and one killer jump scare at the very end.
Here's the official synopsis:
"The supernatural thriller brings to the screen another real case from the files of renowned demonologists Ed and Lorraine Warren. Reprising their roles, Oscar nominee Vera Farmiga and Patrick Wilson star as Lorraine and Ed Warren, who, in one of their most terrifying paranormal investigations, travel to north London to help a single mother raising four children alone in a house plagued by malicious spirits."
The cast is rounded out by Frances O'Connor as the mom; newcomers Madison Wolfe, Lauren Esposito, Patrick McAuley and Benjamin Haigh as her kids; and Franka Potente and Simon McBurney as fellow investigators.
Specifically, the movie is based on the true story of the Enfield Poltergeist, a particularly nasty specter that ostensibly terrorized an 11-year-old girl named Janet Hodgson in her home in 1977. It follows the first movie, whose story about a similar evil entity harassing a family in rural Rhode Island was inspired by the real-life exploits of the Warrens, two paranormal investigators best-known for inspiring another horror classic, The Amityville Horror. The first movie even spawned its very own spinoff with the well reviewed but not particularly memorable Annabelle released in 2014.
Conjure yourself out of thin air to a movie theater and dare yourself not to look away when the movie is released later this year on June 10, 2016.