NYS Governor Plans the 'Empire State Station'
Mr. Cuomo wants to turn Penn Station into a larger, much more efficient (and pleasant) mass transportation hub.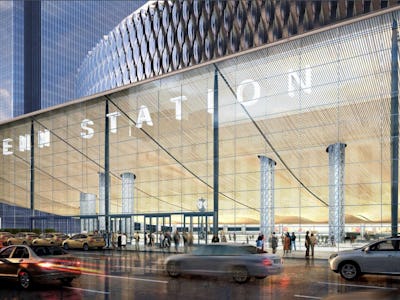 governorandrewcuomo | Flickr Creative Commons
New York State Governor Andrew Cuomo delivered a speech Wednesday that outlined plans to streamline and improve transportation in the Greater Metro New York City area—with the crown jewel being a transformation of Pennsylvania Station into the "Empire State Station."
The envisioned name may have a bit of a "Death Star" ring to it, but in reality Cuomo's proposal is about upgrading the underground Penn Station — where the Long Island Rail Road, New Jersey Transit, Amtrak, and NYC subways meet. A structure devoid of natural light and cut off from fresh air, he didn't hesitate to take a comedic swipe at Penn's current state while still stressing its importance.
"Penn was a majestic building," the governor declared, but when describing its present-day condition added with droll fashion, "…Penn Station is 'un-New York,' it is dark, it is constrained, it is ugly, it is dated architecture, it is a lost opportunity…frankly it's a miserable experience…to cut to the chase."
However, along the way he also included the importance of Penn—how it currently handles 650,000 people daily—and how he intends on making it the main tie of his sweeping revitalization plan for the airports and railways that connect upstate New York, the Hudson Valley, New York City, Long Island, and New Jersey.
Cuomo wants to invest and expand New York train access (the Long Island Rail Road, Amtrak, and Metro North) and area airports (LaGuardia, JFK, Republic, MacArthur, and Stewart)—but at the center of all the fixes would be Penn Station, reborn as "Empire State Station."
The plan itself is not concrete, but instead a series of options for interested private developers to create a mega-hub by combining the already massive Penn with a repurposed Farley Post Office.
Across 8th Avenue from Penn, the landmarked James A. Farley Post Office Building is a 100-year-old Corinthian structure that fills a full city block—as does Penn Station and Madison Square Garden, which is built over Penn. Cuomo wants to make Farley a train access point—connecting it with Penn via underground concourses, as well as open passage to daylight, improve ventilation, and add restaurants and shops — making the dual properties into one interconnected complex.
However, the final version of what could or will be the Empire State Station will lie with the developer or consortium that takes up the project—with options including renovating Penn, renovating Farley, or both—thereby completing Governor Cuomo's declared vision of a strengthened mass transit system that will "make this state for the next 100 years."