Petition Calls to Name Super-Heavy Element After the Late Lemmy Kilmister of Motörhead
The periodic table needs Lemmium.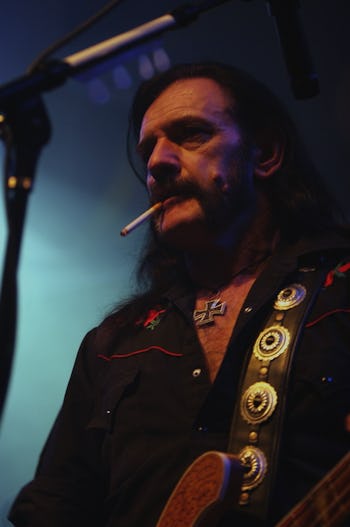 Wikipedia Commons
Discarnate Motörhead frontman Lemmy Kilmister long ago secured his legacy on this plane of existence, but we didn't love him for saying "good enough." It's a fitting tribute then that a Change.org petition is seeking to have one of four newly discovered super-heavy elements named after the man who gifted the world No Sleep 'til Hammersmith.
Started by the United Kingdom's John Wright, the petition to put "Lemmium" on the periodic table has already garnered almost all of its goal of 50,000 signatures.
Wright explains where no words are needed:
"Heavy rock lost its most iconic figure over Christmas with the sudden and unexpected death of Ian 'Lemmy' Kilmister. Lemmy was a force of nature and the very essence of heavy metal. We believe it is fitting that the International Union of Pure and Applied Chemistry recommend that one of the four new discovered Heavy Metals in the Periodic table is named Lemmium. An astrological object (a star) has been named Lemmy to meet the IUPAC naming recommendations"
Key figures in the heavy studies community quickly embraced a future where schoolchildren are being taught about the history of Lemmium, among other advances in blackness.
The organizers of Riot Fest, a punk and alternative music festival, are getting out the word:
And Guns N' Roses member Duff McKagan also showed his support:
And while we're on the subject, remember that Lemmy's final show is set for 6 p.m. Eastern time on Saturday, when his funeral will be live-streamed on YouTube in a manor befitting his peers of popes and presidents.