Volvo's Concept 26 Self-Driving Cars Will Be Built for Binge Watching 
Tailoring video for your morning commute.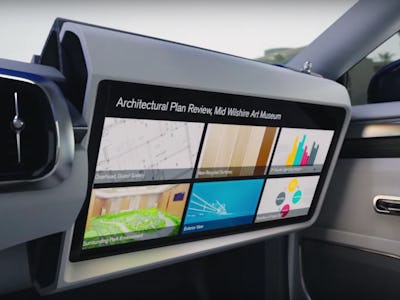 YouTube
Not everyone in a self-driving car will spend their new free time boning, and that's OK! There are other things to do in life. Like catch up on Game of Thrones.
Volvo's Concept 26 autonomous car will let you do exactly that under its "Relax Mode," which will let you watch video while the car does the driving.
In the airless, bumper-to-bumper commutes of the future, we will all be binging Jessica Jones.
Volvo, developing the streaming tech with Ericsson, is predicting that as much as 70 percent of all the mobile data traffic will be streaming video, and not all of it will be porn.
To help ensure whatever you're watching stays high-quality, the software won't just track your viewing habits but suggest entertainment that runs just as long as your commute, so you aren't left hanging when you get to the office every morning.
Presumably, this will open the door for automakers to sign exclusive deals with streaming services and you could find yourself in the unlikely position of petitioning Dodge to put the money up for Hannibal season 4.