Robbie Amell Is Returning to 'The Flash' as Deathstorm
Ronnie Raymond will be in 'The Flash' again, but he won't be quite himself.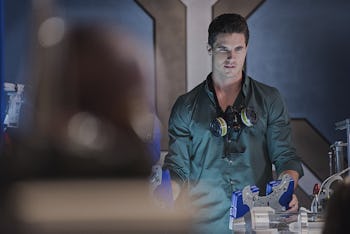 The CW
Actor Robbie Amell will return this season on The CW's The Flash, reprising his role as Ronnie Raymond. Kinda. This time, he'll be Ronnie Raymond of Earth-Two, who is in fact the villainous Deathstorm.
In an exclusive with Entertainment Weekly, executive producer Andrew Kreisberg said Amell will guest star as Ronnie Raymond from a parallel Earth, which has been a major source of the show's antagonists this season. "We are beyond excited to have Robbie back on The Flash," he said. "You can't keep a good Firestorm down. Only this time, he's back with a twist, a deadly Earth-Two version of our beloved Ronnie in the form of Deathstorm."
This evil Ronnie evokes original DC Comics lore, which had Ronnie resurrected as Deathstorm and a member of the zombie Black Lantern Corps during DC's "Blackest Night" crossover series.
While Deathstorm in The Flash may not be a Black Lantern, he will be joined with an equally evil Caitlin Snow. First teased last season in a brief time travel sequence, Caitlin Snow — who comic fans knew would sooner or later become the supervillain Killer Frost — will meet her evil doppelganger, a slight misdirection as fans presumed Caitlin of Earth-One would turn into Killer Frost. According to EW, Earth-Two Ronnie and Caitlin are still together, and will become The Flash's next headache.
The kinda-sorta return of Ronnie signals The Flash is taking its alternate Earth premise seriously. I always wondered the possibilities of the show's protagonists meeting their Earth-Two doubles, and The Flash is taking advantage of that in an awesome way.
The Flash returns January 19 on The CW.