Anonymous Announces #OpHongKong After Bookstore Owner Is Abducted
Lee Bo, a seller of books banned in China, vanished from Hong Kong. Hackers hold China responsible.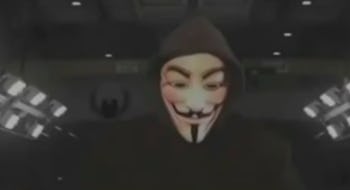 YouTube
After a politically-inflammatory bookstore owner, Lee Bo, vanished from Hong Kong, a sector of Anonymous announced a new operation: #OpHongKong. In a YouTube video posted on Saturday, the hackers announce that they would begin attempts to take down Communist Party of China websites.
Bo's bookstore, Causeway Bay Books — touted as Hong Kong's most famous bookstore — is now closed, and letters of support and good wishes cover its locked door.
Causeway Bay Books, in operation since 1994, is known for distributing banned, politically-revealing books that otherwise go uncirculated in mainland China. Four of Bo's associates went missing over the past several weeks, and now Bo himself has disappeared. He reportedly called his wife on the night of his apparent abduction, telling her that he "will not be coming back anytime soon."
Anonymous is a disparate organization, and their operations — unfortunately — often fizzle out after they manage to shut down a website or two for a few hours. Last year, they remained very busy — but their efforts could've proven more effective. A prominent Anonymous-affiliated hacker, Jester, warned against taking such "operations" too seriously.
However, if Bo was indeed abducted by Chinese authorities, it would constitute a glaring breach in the Hong Kong–China "One Country, Two Systems" law.
There have been no reports to date of successful infiltration.