The Rejected Title for 'The Force Awakens' Was, Ugh, 'Shadow of the Empire'
Expanded Universe fans might recall this 'Star Wars' title more fondly.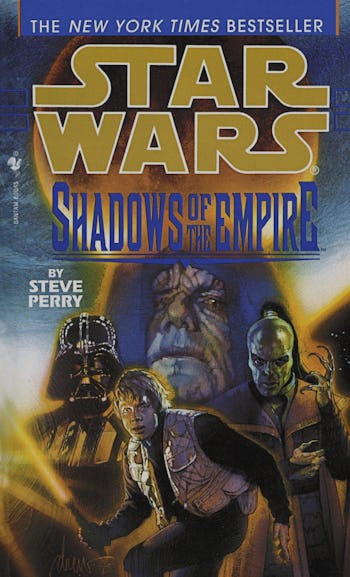 StarWars.com
The Force Awakens is probably the perfect title for the new Star Wars movie, both in description and in capturing the themes in the newest installment of the long-running saga. But per a series of tweets, director J.J. Abrams' movie was almost saddled with another name, one that would've hung on the new movie like a dark albatross.
On Christmas day the news editor for a UK-based Star Wars fansite called Jedi News tweeted a suggestion for the next Star Wars movie, saying that "Path of the Jedi" would make a proper name for the yet-untitled film. This garnered a response from Pablo Hidalgo, the creative executive behind the Lucasfilm Story Group (basically the keepers of the official Star Wars canon), who tweeted back a juicy counterfactual tidbit.
When another Twitter user pressed him about which one, Hidalgo gave in and mentioned that the movie was called "Shadow of the Empire." Hidalgo specified that it would've been distinct, barely, from the Expanded Universe classic Shadows of the Empire by author Steve Perry, which took place between The Empire Strikes Back and Return of the Jedi and involved Darth Vader attempting to turn Luke to the Dark Side. The book also spawned a popular Nintendo 64 game and a series of action figures.
Here's the official synopsis for the book:
"Shadows of the Empire illuminates the shadowy outlines of a criminal conspiracy that exists in the background of the events in the movies, ruled by a character new to us. Prince Xizor is a mastermind of evil who dares to oppose one of the best-known fictional villains of all time: Darth Vader. The story involves all the featured Star Wars movie characters, plus Emperor Palpatine and, of course, Lord Vader himself."
Aside from being derivative of the book, "Shadow of the Empire" wouldn't have suited Episode VII. For one, it undercuts the initially optimistic primary naming conventions of the original trilogy. A New Hope suggests, well, hope, and The Force Awakens points to a newly reinvigorated Force in the movie and for the wider series.
Perhaps "Shadow of the Empire" would do well for the inevitably dour second part of the new trilogy written and directed by Rian Johnson to go along with The Empire Strikes Back, which will also inevitably turn around into positive territory with the sequel trilogy's equivalent to Return of the Jedi.
Still, "Shadow of the Empire" tops the other rumored titles for Episode VII. Rejected titles included "A New Dawn," "Return of the Sith," or "Rise of the Jedi." We'll see if "Shadow of the Empire" returns when Johnson's next installment hits theaters on May 26, 2017.