Phil Tippett Took LSD While Animating 'Return of the Jedi'
Famed 'Star Wars' and 'Jurassic Park' animator Phil Tippett talks about dropping acid and how he got his start.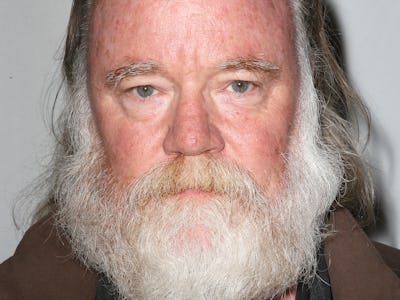 Frederick M. Brown/Getty Images Entertainment
"I took LSD when I was working on Return of the Jedi," animator, director, and visual effects supervisor Phil Tippett admitted in a recent Vice video interview. For that third film in the Star Wars saga, he crafted the great ghoul Jabba the Hutt. He recalls jovially that dropping acid helped him communicate with his cat, Brian, who took him on a journey through a cupboard to the center of the Earth for three billion years. Then he went back to work onset.
Once he saw the blue screen stage though, he realized, "I took like way too much."
Though he made the transition to CGI for Jurassic Park, Tippett started as, and continues to work as, a stop-motion animator. As a seven-year-old boy, he first felt how magical animation could be while watching innovative animator Ray Harryhausen's The 7th Voyage of Sinbad. It was, he remembers in the Vice interview, "like a bolt of lightning struck me." He knew he had to make monsters of his own.
Tippett then mowed lawns to save money for an 8mm camera that, he recalls, "I could shoot single frames with," using G.I. Joes as his subjects. As a young adult, he went on to meet Harryhausen and his Star Wars collaborators.
He crafted the masks for the cantina scene in the original Star Wars Episode IV: A New Hope, acted as the head of the ILM animation department with Jon Berg for The Empire Strikes Back, and created the technique go motion animation to get his AT-AT Imperial Walkers and tauntaun aliens moving. Most recently, he used stop-motion to recreate the original Star Wars chess scene for The Force Awakens.
Tippett was also the mind and paws behind the killer fish in Piranha. He worked on campy classics like RoboCop and Howard the Duck. He was credited as the "Dinosaur Supervisor" in Jurassic Park (which resulted in a meme which doesn't amuse him much) and on the sequel, Jurassic World. More recently, Tippett acted as the visual effects supervisor on four Twilight films.
He's currently working on a personal project he started in 1990 but took a break from for decades called Mad God. He recently raised money for its completion using Kickstarter.
So, next time you watch Princess Leia use the chains that enslave her to strangle the crap out of Jabba, you can imagine the chains loosening on Tippett's brain as he and his cat explored the Earth's core and Jabba came to life.