Scientists Call for a Lesser Flu Season
According to their math, it looks like the bug won't be hitting so hard.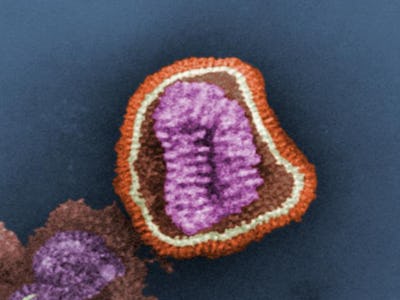 Kat Masback | Flickr Creative Commons
Fears of a vicious flu season may not be in order, as a muted term in level of impact is expected, according to scientists at Los Alamos National Laboratory.
The current threat of influenza has already turned out somewhat underwhelming—as a check of the "FluView," the weekly report put out by the Centers for Disease Control and Prevention reveals that for Week 49 (December 6-12, 2015) "the proportion of deaths attributed to pneumonia and influenza was below their system-specific epidemic threshold," and, in even more positive news, "No influenza-associated pediatric deaths were reported."
Using this data—and then combining it with historical details and organizing the facts via a "mathematical representation of how flu spreads through a population," the Los Alamos NatLab team creates a "probabilistic model forecasting the flu season."
Los Alamos scientist Sara Del Valle is quoted by her organization's website:
"There's no crystal ball when it comes to predicting disease outbreaks…Holiday travel and the rate at which people get flu shots can change the forecast, so we'll continue to update the model as new information becomes available. But as of now, there's a less than 5 percent chance the peak will hit before 2016 in all parts of the U.S. This makes it a relatively mild start to the flu season compared to recent years."
The researchers claim their forecasting method has previously—and accurately—projected past outcomes.