'A Monster Calls' Will Out-Play 'The BFG' At Its Own Game
These two 2016 movies seem eerily similar. Which one will be better?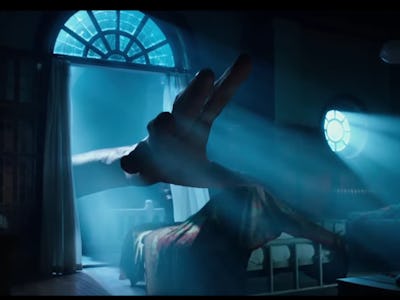 Two nearly-identical trailers dropped in 2015, both featuring children being snatched out of their beds by giant monster hands. Both films, The BFG and A Monster Calls, are based on children's books of the same titles, and both feature voice acting from big names, including Liam Neeson (the monster in A Monster Calls) and Bill Hader (The BFG). So what's the difference between the films, and which one will probably be better? Starting with the source texts is a good start.
The BFG was published in 1982 by Roald Dahl. The novel, written for children, features a lot of imaginary terms like snozzcumber (a vegetable) and whizzpopping (farting due to the digestion of a soft drink called frobscottle). There's a huge emphasis on silliness in the book, and the story lends itself more to the British frivolity of Dahl stories like George's Marvellous Medicine, as opposed to Matilda or James and the Giant Peach.
The plot is mostly fantastical, and antagonists include a giant named the Bloodbottler (voiced in the 2016 film by Bill Hader) that's a sentient nightmare and a woman named Mrs. Clonkers. Though the film's only teaser wants us to consider The BFG an epic, Christmas tale, the source material suggests a smaller, weirder project like 1996's lovely Matilda.
As for A Monster Calls, the film's promo spends a lot of time narrating one child's isolation through a gravely Liam Neeson voiceover. The final sequence in the teaser plays out very similarly to The BFG, although the color scheme in this one is decidedly less Hugo blue-and-gold.
A Monster Calls, published in 2011, tells the story of a boy coping with his mother's terminal illness by imagining a large monster who both torments and consoles him. The book has an interesting history, as it was originally conceived by children's author Siobhan Dowd, who arranged to have it written by a different author, Patrick Ness, before she died of an actual terminal illness. Both Ness and the book's illustrator won awards for their work.
Since Ness himself wrote the screenplay, the 2016 film will probably be just as dark as the book. Since one of the most notable aspects of A Monster Calls is its illustration style, the film will hopefully use this twitchy, creepy aesthetic as well.
Both films will center around the performances of previously-unknown child actors, which could determine the success of one over the other. The BFG's Ruby Barnhill certainly looks engaging in the trailer, wearing her adorably oversized pair of spectacles. We also get a great clip of her voice acting skills, which seem promising. A Monster Calls features Lewis MacDougall, who played a small role in 2015's commercial failure, Pan. We don't get to see much of his acting in the film's teaser, but since the script will most likely call for more emotional range than The BFG, MacDougall was apparently cast to handle that burden.
While The BFG will have a holiday season release, it will probably fall into Steven Spielberg's slowly-growing canon of large-set-piece Christmas family epics. A Monster Calls has an October 2016 release date, and its director Juan Antonio Bayona has directed both horrors and dramas, notably including the Guillermo Del Toro project, El Orfanato.
Recent attempts at family-friendly epic cinema, even based on treasured novels, have failed miserably, so The BFG will have a lot to prove. Theatergoers continue to demonstrate a preference for quirky, offbeat stories, and A Monster Calls, on the other hand, looks primed to satisfy the melancholy monster fans who enjoyed Crimson Peak. Only time will tell which huge kid-friendly monster will win out in the end.