The Jon Hamm-Starring 'White Christmas' Special of 'Black Mirror' Hits Netflix on December 25th, If You Want to Have a Grim Holiday
Charlie Brooker's one-off hour-and-a-half-long 'Black Mirror' Christmas special -- which hit the UK's Channel 4 last year -- is full of perils, perverse pleasures, and recognizable stars. Now you'll finally be able to stream it in the U.S.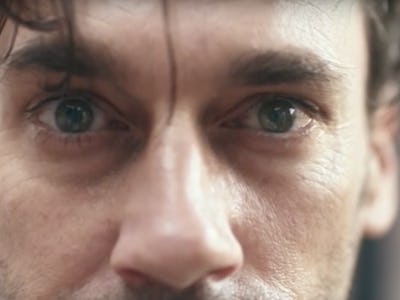 "Now we're festive! To Christmas," Jon Hamm says, pouring wine and spreading gravy from a Santa-faced ramekin. He's a nightmarish future-Hitch, atoning for past sins in a No Exit-like cabin at the end of the world, talking to a meek man (Rafe Spall) mourning a life of self-deception and mistakes that set off seismic disasters.
Though much of the episode's plot revolves around events on different Christmases, this scene is as actually festive as the extended Charlie Brooker "Christmas special" for his Channel 4 series Black Mirror gets. It soon descends into a meditation on breakup and loss in the age of "blocking," a system in which a person's ability to see, interface with, or remember another person is corrupted using a psychovisual application.
There is also speculation about merciless law enforcement techniques in the era of mind monitoring and control, and the lengths to which humans will stoop to try to insure a perfect life. What is torture in a world when people can clone themselves as digital devices? ""It wasn't really real, so it wasn't really barbaric," Hamm argues, after putting a "cookie" through literal hell.
As with the average Black Mirror installment, White Christmas is a slow build to the wool being pulled from its characters' eyes — in this case, Hamm and Shaun of the Dead/Prometheus actor Spall — or rather the digital mind control being lifted to expose the sordid reality of their respective situations. On the side, there are other casualties, including Game of Thrones stars Oona Chaplin and Natalia Tena.
The special is also Brooker's darkest and most complex episode to date — and perhaps, on rewatch, the show's finest. Its ideas and concepts are its most outlandish and thought-provoking, and it manages to be engrossing and constantly surprising without packing too many ideas in.
It has been woefully absent from any stateside digital streaming outlet for the past year, but now Black Mirror: White Christmas is coming to Netflix… on Christmas Day. If you want to get a truly demoralizing taste of Christmas Yet to Come with the fam, make sure to check "Recently Added" after imbibing those hot toddies and rocking the ham.