'No Man's Sky,' 'Mass Effect Andromeda,' 'Uncharted 4' and Other Games We Can't Wait to Play in 2016
From ancient ruins to the edge of space; 2016 is promising us plenty.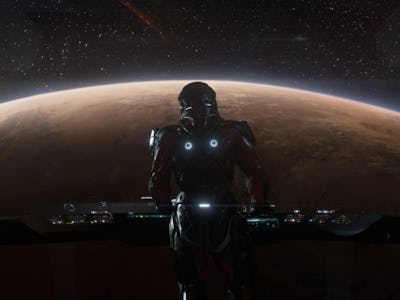 masseffect.com
With 2015 coming to a close, it's time to start looking forward to 2016 and the video games that come with it. There's plenty of good stuff to look forward to next year, including games we've been waiting for since the Xbox One and PlayStation 4 launched back in 2013 like The Division and The Last Guardian. But, there's plenty of promising new projects as well that will hopefully introduce us to some new concepts and ideas within the gaming industry — something we're all looking forward to here at Inverse.
And here at Inverse? We've got a few titles we are looking forward to specifically.
Nicholas Bashore
Tom Clancy's The Division
I've had my eyes on The Division ever since it was first teased back in 2013, keeping up with all of the trailers and gameplay demos surrounding the game. Not only is the game set in one of the United State's most famous cities, but it touches on the large open-world experiences that we've been waiting for on consoles. I love tactical shooters and beautiful games — and it looks like The Division aims to deliver. Here's to hoping for a successful launch in March of 2016 after the few delays it's received.
Dark Souls 3
Call me crazy, but I love both Dark Souls and Bloodborne. They're punishing, brutal, and filled with tons of great backstory underneath all the difficulty. Sure, I've had a fair amount of experiences where I was ready to throw my controller against a wall, but in the end? It's the old sense of discovery that I really find enjoyable in the franchise — every encounter feels rewarding in it's own way, which is something you don't see too often. So naturally, when Dark Souls 3 was announced with an April 2016 release date, I headed out and pre-ordered my copy immediately. I just can't wait to see where the story is headed — and how many times I die trying to get there.
Uncharted 4: A Thiefs End
I feel like I don't have to say much about Uncharted 4. The franchise was the entire reason I bought a PS3 and PS4, plus it contains the best cast of characters I've seen in a video game for years. Not only does the game look great, but it feels like a promising story that will serve as a great wrap-up to the franchise. Essentially, Nathan Drake is the Indiana Jones of video games — and I can't wait to play his last adventure on my PS4 in 2016.
Brock Wilbur
Dishonored 2
I slept on the first game until the DLC started pouring out, then gave it two playthroughs— one in sneaky sneak mode and another as a full on murder monster man. Wow, I loved this game and the world it built, which tickled the parts of me that hadn't been tickled since that first bathosphere arrived in Rapture. Bonus points in the excitement for the sequel for the focus on a female protagonist and for adding Cara Ellison to the writing team.
Fallout 4
Fallout 3 was the first game where I remember having the experience truly enriched by the presence of excellent extended DLC adventures, and while I haven't made the biggest dent in F4 yet, I'm just dying to see what Bethesda brings to the table here. I think there's a collective desire to see the underwater areas developed (which seems unavoidable) and I'm sure new additions to the crafting/building side of the game.
DOOM
The Doom 4 alpha experience was redacted so I'm (again) dying to see what Bethesda brings to the table here. Wolfenstein was such a shockingly excellent reboot of a franchise, and I'm an unrepentant Doom fanboy. Hopefully, now we'll see the story from all those '90s tie-in novels brought to life! (No. Anything but that.) The announcement to the return of a run and gun format for these games, after I spent D3 creeping through hallways, feels like it will tickle that same itch Painkiller did a few years ago for an idiotic, joyous bang-bang cacophony of shouting at screens and making undead things turn inside out.
Rowan Kaiser
STRATEGY GAME OVERLOAD
How prepared are strategy game fans for 2016? In February, we get XCOM 2. In April, Total Warhammer. At some point in the year, Paradox, which has scored big hits lately with Crusader Kings 2 and Europa Universalis 4 will be dropping their ambitious grand science fiction strategy game Stellaris — and they're likely to release World War II simulator Hearts of Iron IV as well. All of these have been positively previewed (including by me), and all have the potential to suck up weeks or months of time. Even if only half of them live up to their potential, still probably a banner year for strategy games.
Darkest Dungeon
Darkest Dungeon was released on Early Access near the start of 2015, and instantly became one of my Game of the Year contenders. The only problem: Its full release was delayed until January 2016. Even still, this is something special. Darkest Dungeon is a game about the stress and horror of being an RPG party, with characters' mental health something that the player has to manage as much as their hit points or skills. It's all put together in a simple, genius little package that anyone interested in role-playing or tactics should grab immediately.
Eric Francisco
Mass Effect: Andromeda
Really, just more Mass Effect gets me juiced. I relished the opportunity to etch my place in a sandbox universe because I'm a narcissist, and that I did it as the savior of the galaxy was just hella sweet. I frequently say that Mass Effect was like getting to live and play Babylon 5, to experience a space opera in a way that isn't passive nor denying my participation. I theorize that 90% of the reason why everyone loves Star Wars is because they can see where they could be if they lived in it. Mass Effect actually let me see that.
For Honor
I'm a regular at the New York Renaissance Fair, but I love being the weirdo in samurai armor walking around next to knights and wizards. The minute I saw For Honor I freaked. It's like Deadliest Warrior became more than weak bro science and served up a decent game its premise promises.
Besides the fact that it touts ridiculously complex sword fighting that isn't just tapping buttons in a certain order, I'm excited to see it expand. We can't just have knights, samurai, and vikings forever. Can you imagine pirates and buccaneers? African or Polynesian tribes? Could there be expansions where we play as Joan of Arc? Straight-up Star Wars with Jedi vs. Sith? I don't say this often, but please let this be a franchise.
No Man's Sky
Hype for Sean Murray's opus magnus is getting dangerously high, but even I still want to claim dibs on planets and animals that anyone else who stumbles upon them will see I had already been there. I seek immortality, basically.