A Plan to Grow Potatoes on Mars in the Works
A research group is working to show how spuds could serve both future Martians and current Earthlings.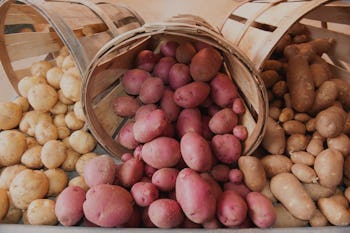 United Soybean Board | Flickr Creative Commons
The day when human beings will land and live on Mars is yet to be determined, but meals of French fries could be a part of that future as plans are in the works to prove the potato can handle Martian agriculture.
The International Potato Center (known as "CIP," the acronym of its Spanish name "Centro Internacional De La Papa")—a tuber and root farming organization—has announced it is combining forces with NASA to form a research project intended to demonstrate the potato's potential by eventually cultivating the food on Earth in soils similar to what currently exists on the Red Planet.
The dirt to be used as the substitute for Martian soil will come from the Pampas de La Joya Desert in Peru, and the experiment will take place under simulated Martian atmospheric conditions in a lab. It is believed that the atmosphere on Mars—nearly 95 percent carbon dioxide as reported by the CIP—could yield a tater crop double, or even quadruple a normal Earth grain harvest.
At the same time, the CIP hopes to show how potatoes can also come in handy on Earth right now—especially in areas where the hardships of poverty and famine could be eased by the introduction of the potato—as it's not only a hardy plant, but a strong source of iron, zinc, and vitamin C.
Joel Ranck, CIP Head of Communications, was quoted in a blog posted Friday to the CIP website, "We need people to understand that if we can grow potatoes in extreme conditions like those on Mars, we can save lives on Earth."