Caleco Is Bringing Back the Cartridge-Based Video Game Console
Coleco is capitalizing on nostalgia with a high-quality system using old traditions.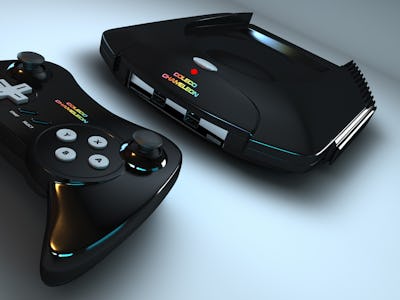 Coleco
Coleco is back — and so is cartridge-based gaming.
The video game company remembered for the 1982's ColecoVision console ("we bring the arcade experience home!") has just unveiled its new full-fledged video game console called Chameleon. Going super old school, the Chameleon will support cartridges — yes, cartridges — to corner the new market of 8- through 32-bit games which are prominent on digital retailers like Xbox Live and iTunes.
The system will not play old games from Sega and Nintendo's libraries since they are guarded under a small thing called intellectual property law, but it will play new games that look and feel decidedly retro.
Coleco's website states that Chameleon will treat video games "as more than just software" and aims to eliminate "the biggest frustrations with modern day gaming" like lengthy online updates.
The system is, in fact, a refitted RETRO VGS which was a Kickstarter project that failed to meet its almost $2 million goal last November, collecting only $81,158 during its campaign (that's its campaign video above). After the Kickstarter failed to raise the necessary funds, New Jersey-based Caleco swooped in to support the system.
Video games have been inching in this direction for some time, and in 2015 it became far more pronounced. A recent New York Times article quotes an analyst describing the phenomenon as the "inevitable becoming the inevitable."
The downloadable world has its drawbacks, of course: For Deadspin, Albert Burneko writes that "The Xbox One Is Garbage And The Future Is Bullshit," because of those painfully long download times and system updates. Coleco, it appears, is capitalizing on a demand for simplicity.
On Coleco's website, they proclaim of Chameleon: "As long as you have the cartridge, you have the game!" OK, but what if we lose the cartridge, Coleco? Is it saved on the Cloud? (Nope.)
A price has not yet been announced, but on Twitter, the company's reps said the price will be significantly lower than "the previous go-round." Upon its release in 1982, the ColecoVision cost $175, approximately $434 in 2015.
The Chameleon will make its debut at Toy Fair New York in February 2016. And remember, don't blow into the cartridges, that actually damages them.