'Halo 5' Has Created the Ideal Business Model for Downloadable Content  
The best part? It has everything gamers love to hate.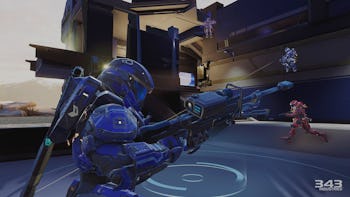 Gamers are going through a time where the video game industry is selling and shipping downloadable content in a variety of ways; experimenting with practices like micro-transactions and early access on the Xbox One and PlayStation 4.
During this experimentation? We've seen games being released lacking parts of their narrative, we've seen games cutting their single-player and offline options, focusing on giant multiplayer experiences that feel small in scale, and we've seen the rise of the season pass; for better or for worse. However, there are a few companies who have launched games which show a promising future for the way downloadable content is handled post-launch.
Among these companies is 343 Industries, the stewards maintaining and working on the Halo franchise for Microsoft — and with Halo 5 they've created the ideal business model for a multiplayer shooter that many companies would be wise to follow.
Essentially, Halo 5 is doing three things right when it comes to DLC; they're releasing all the map packs for free, they're funding tournaments through REQ purchases, and they're updating their REQ system continuously.
The decision to make all of the DLC maps free was announced back in the July issue of Game Informer when they spoke with Josh Holmes, head of 343 Industries.
"When you have paid map packs and content, you divide the player base into two groups: the haves and the have-nots."
"The people that have the map pack can play together but the people who don't cannot. That to us is a real problem. So we're delivering all of the maps to all players free so everybody will be able to play together. That, we feel, is really important to having a great multiplayer ecosystem."
As Holmes suggested, the decision to keep all of the maps free was definitely the right call. Not only does this keep the player base united as he suggested, but it provides players with a new reason to consistently stick with the game in a way similar to Bungie's approach with Destiny's events. By releasing new DLC packs every few weeks, Halo has successfully kept players coming back since it released in late October to check out what the new maps have to offer.
And each of these DLC packs has contained a load of new goodies for players to dig into, including the return of Big Team Battle with four maps and a wide variety of new skins, equipment, and armor through the REQ system.
While many seem skeptical at first, Halo 5's REQ system has honestly become a triumph for the integration of micro-transactions into video games. Essentially, the system allows players to purchase packs of gear, skins, and equipment by using real-money through microtransactions. However, these packs can also be unlocked in-game by earning REQ points through regular gameplay, although it's certainly slower than dropping money to unlock them — but not so slow as to ruin the core experience of multiplayer.
Not only has 343 managed to balance out paid progress and non-paid progress within this system; but they've managed to add a variety of themed gear into them as well — releasing special emblems for Christmas with other holiday offers presumably coming up in 2016. These items range from new assassinations to new armor sets, each with their own backstory and description — and you can tell that plenty of care has been put into each one. Granted, most of these new items are hidden within the REQ packs themselves, which you have to grind out in-game or purchase.
So why would you want to purchase REQ packs instead of grinding them out and using in-game currency? I was optimistic at first myself, thinking that it was rough we have to opt-in to the REQ system to progress throughout the game in some form or another. But that all changed when 343 announced the Halo 5 World Championship, releasing details about how the tournament would be funded.
While the initial $1 million prize pool was funded by Microsoft, the additional $1 million that has been added since Halo 5s release (as of today) is entirely from REQ pack purchases. That's right, if you purchase a REQ pack, you're helping to fund the future of competitive Halo directly, both DLC and tournament. And if you're not purchasing packs? You're getting free downloadable content for Halo 5.
I don't know about you, but getting all of my DLC for free is encouraging me to throw more money into Halo 5's REQ system since I don't have to put more into the game — plus, it's nice to know that I'm directly funding a competitive scene that I want to support.
Honestly, it's one of the best models to surface in the competitive shooter market lately; especially considering that some of the other big titles this year, such as Star Wars Battlefront and Rainbow Six Siege, launched without singleplayer campaigns for the same price of $60 and are encouraging you to purchase their $50 and $30 season passes respectively.
343, here's to you — and hopefully others in the future — for creating a system that includes everything we love to hate, in a compelling package we find hard to step away from.
Halo 5 is available now on Xbox One.