How This Massive Nuclear Site Will Become a National Park
Is it time to honor the Manhattan Project?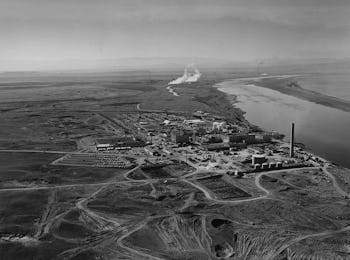 United States Department of Energy; Wikipedia
For decades, the Hanford Site on the Columbia River in Washington was the heart of the United States' nuclear efforts. Today, it contains more nuclear pollution than any other site in the country.
Still, officials at the Hanford Site are preparing for an influx of visitors after it was named part of the Manhattan Project national historic park in November. The designation signals a new stage in the rehabilitation of the site that became infamous in recent years as a symbol of wartime dangers spilling over into peace.
In fact, as much as two-thirds of all the nuclear radiation in the entire country is located on the Hanford Site, which has suffered from periodic leakage even over the past decade.
At its peak, the complex housed nine nuclear reactors and five plutonium processing plants. The complex fueled the world's first nuclear bomb, detonated at the Trinity site in the New Mexico desert, and Fat Man, the bomb the United States dropped over Hiroshima, Japan.
Officials are claiming to have put the area's polluted past behind them — or at least far enough away that it poses no risk to visitors. The radioactive material is kept several miles away in containment tanks and actually functions as a real-life laboratory on how to deal with radioactive contaminants that attracts thousands of scientists a year.
The new plan to attract visitors centers around the historic B Reactor, which produced the Nagasaki fuel, and the towns of Hanford and White Bluff, which saw its populations replaced by 50,000 Manhattan Project workers during World War II.
"The intention of the park is to tell the full and complex and convoluted story," Chip Jenkins of the National Park Service told The Guardian. That story is still being developed, but will certainly include a Japanese perspective, he said.
"What happened at B Reactor changed the course of human history," Jenkins said. "They went from sparsely populated ranching communities to the first packet of plutonium over the course of 18 months."
The Hanford Site joins Los Alamos, and Oak Ridge, Tennessee to form the new national park. While Reactor B has been open to the public for tours since 2009, officials are planning for that number to increase over the coming years.
Let's hope those visits really pick up soon. We're a country in debt, but we still spend nearly $1 billion every year to contain the site's nuclear pollution.