Tina Fey Tells the Most 'American White Lady Story' in 'Whiskey Tango Foxtrot'
The story of a real-life, female reporter working in a not-so-progressive environment.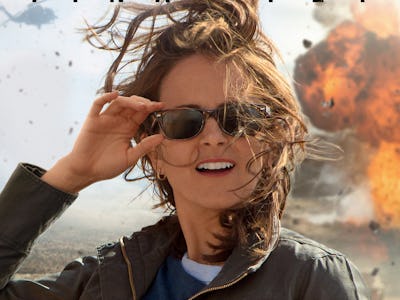 Whiskey Tango Foxtrot (Paramount Pictures)
The movie world may be all Star Wars , all the time right now—yet in a week where we've got The Force Awakens playing in theaters and a new international Captain America: Civil War trailer online, this bit for a story based on a real person has also grabbed some notice:
Whiskey Tango Foxtrot is based on the life of current New York Times reporter Kim Barker, who was the South Asia bureau chief for The Chicago Tribune , (2004-09), and worked out of cities like Islamabad, Pakistan, and New Delhi, India—a situation that also brought her frequently into Afghanistan during the time of war with the United States. She wrote about these experiences in the March 2011 book The Taliban Shuffle: Strange Days in Afghanistan and Pakistan , from which Whiskey was adapted.
Whiskey Tango Foxtrot stars Tina Fey, Billy Bob Thornton, Alfred Molina, Margot Robbie, and Martin Freeman, and is scheduled to arrive in theaters on March 4, 2016.