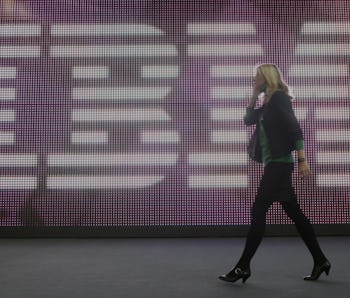 Entertainment
IBM Is Building a Blockchain Clone for the Banking Giants
A public ledger known for Bitcoin, without the Bitcoin.
Getty
The future of Bitcoin is a long way from secure, but the true value of the digital cryptocurrency lies in the accounting system behind it.
For those of you clinging to good old-fashioned folding money, every Bitcoin transaction ever made is recorded on a public ledger called blockchain. Supporters have argued blockchain could save the world from another financial crisis like the Great Recession of 2008 because it would force transparency on a system politicians can't or won't regulate.
IBM announced today that it will "contribute tens of thousands of lines of its existing codebase and its corresponding intellectual property to this open source community." Called the "Open Ledger Project," and overseen by the Linux Foundation, the project includes major tech and banking giants. In essence, the Open Ledger Project will ostensibly lead to the creation of a pseudo-private (?) but open-source ledger that is likely to have applications beyond its participants, according to reports.
London startup Everledger is already using the platform as a way to prove provenance and prevent insurance fraud. Now those same big-name banks like JP Morgan, Wells Fargo, and State Street are helping build a blockchain alternative in a team-up with tech firms including IBM, Intel, and Cisco.
Here's an in-depth primer on Bitcoin tech:
"The current blockchain is a great design pattern," Jerry Cuomo, vice president and chief technology officer of IBM's software group, told Wired. "Now, how do we make that real for business? What are the key attributes needed to make that happen? That's what this organization is about."
As Wired notes, it's telling that these companies are choosing to build an entirely new ledger system instead of just using blockchain. The Open Ledger Project will, like blockchain, be open-source, which is the good news. But with giants at the center it's more likely they can exert influence to shape it in the direction they chose. IBM's approach aims to have a ledger used by a wide array of organizations as it needs multiple parties interacting and watching trades to give it credibility. For now, only IBM and Digital Asset Holdings have pledged existing code and technology to the project.
"I don't have a strong opinion on cryptocurrencies, but I have a strong opinion on the blockchain as a solution for contracts and supply chains and the internet of things," Cuomo told Fortune. "I think Bitcoin is an interesting application for blockchain but there are thousands of applications and wider use cases beyond that."