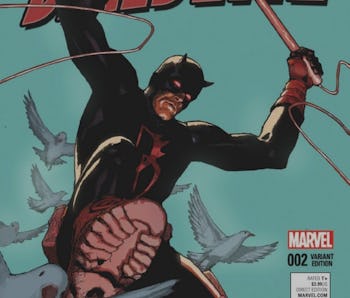 Entertainment
Marvel Tackles Chinese Immigration in 'Daredevil #2'
The next issue of Charles Soule's 'Daredevil' gets a little real.
There's a new masked vigilante in the Hell's Kitchen of the Marvel universe. His name is Samuel Chung, a.k.a. Blindspot, and he's the protege of the one and only Daredevil. Continuing the tradition of comic books addressing real-world situations, Daredevil #2 written by Charles Soule coming December 23, will finally explore more of Chung's story as an undocumented immigrant trying to make his way through New York's Chinatown.
ComicBook has the exclusive preview, which shows a mirroring of Matt Murdock with the new enemy Tenfingers who leeches his power off New York's marginalized populace, all portrayed through gritty art by Ron Garney.
Spoilers for anyone who hasn't read the series' premiere issue earlier this month: Yeah, Blindspot is involved with Tenfingers' operation. But how, and why? I hope Blindspot and Daredevil planned it out (like Silk and Mockingbird in the newest issue of Silk), but hopefully we'll know.
Daredevil #2 hits shelves December 23.