Congresswoman Defends Library's Right to Offer Anonymous Internet 
Why did the Department of Homeland Security go after a tiny New Hampshire Library?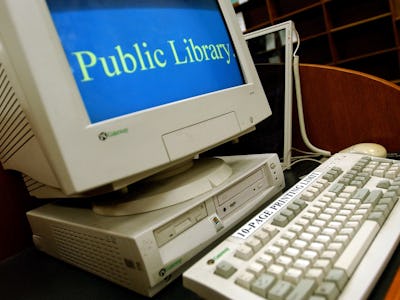 Getty
A California congressman is trying to get to the bottom of why the Department of Homeland Security singled out a tiny New Hampshire library.
Late this summer, an Immigrations and Customs Enforcement agent (subsidiary to the Department of Homeland Security) pressured a library in New Hampshire to disable its Tor relay, which connects to a network that offers anonymous web-browsing. Librarians at the tiny Kilton Public Library in West Lebanon, New Hampshire, voted unanimously not only to continue the relay, but to step up their game. And scores of other libraries are now joining the movement.
California Representative Zoe Lofgren wrote in this letter to the head of the Department of Homeland Security, Jeh Johnson, demanding an explanation. In the letter, she states that she is "disturbed by the possibility that DHS employees are pressuring or persuading public and private entities to discontinue or degrade services that protect the privacy and anonymity of U.S. citizens."
Tor relays — like the Kilton Public Library's — bolster Tor network that allows for surveillance-free internet access. The network relies on volunteers to donate bandwidth.
After the initial law enforcement pressure, the library temporarily shut down its Tor relay. The local community supported the library's decision to reboot the Tor relay, and news outlets and civil rights groups nationwide noticed. The library reinstated the relay and even enhanced its capacities, making its network a Tor exit relay, too.
Lofgren writes in her letter that "The Tor network is a product of research performed at the United States Naval Research Laboratory and DARPA, and is used by journalists, activists, dissidents, intelligence sources, and other privacy concerned individuals to keep their web browsing activity private. The current version of the network still receives significant funding through government grants.
In her letter, Lofgren poses these four questions:
Was this interference with the Kilton Public Library's offering of privacy protection services the result of a DHS policy to persuade public or private entities from offering such services, or was this the result of an agent acting independently without authorization?
If this was the result of an agent acting independently, what steps is DHS taking to ensure that in the future agents do not interfere with privacy protection services being offered to the public?
Are there other instances where a DHS employee has been involved in pressuring or persuading other public or private entities to either stop offering privacy or anonymity services or to reduce the effectiveness of those services?
Please submit to my office copies of any DHS policy, guidance, or memo that discusses either deterring or supporting the use of privacy protection services by public entities, private entities, or individuals.
Alison Macrina helped to set up the Kilton Library's system. She is the founder of the Library Freedom Project, and is passionate about the issue. She writes: "Libraries are our most democratic public spaces, protecting our intellectual freedom, privacy, and unfettered access to information."