Facebook Professional Services Knows Where You Live
The new service is poised to pounce on Yelp.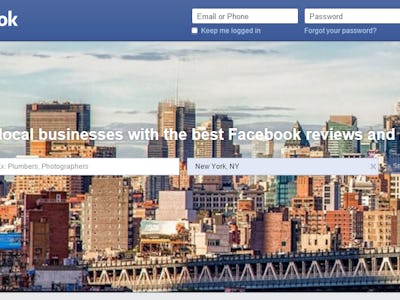 Facebook Professional Services
Facebook Professional Services has rolled out, and it's already totally plugged into your neighborhood….and your personal page.
Arriving quietly online Monday, it lets users find reviews and information on local businesses—and as it is a Facebook quantity, you're already plugged in if you're on Facebook. Just sign in, and you'll find yourself with an instant guide to businesses in your zip code. Then again, if you're looking for companies and services away from home, the main screen has an option that allows you to enter any locality you choose.
However, the new feature (currently desk-top only) is a bit unrefined, and Mashable reports a Facebook spokesman told them it's "in the 'early stages' of testing the service."
As of this writing, one easily spotted imperfection is in the changing your location option on the main page; if you search a subheading, you'll still end up taken to businesses in your home area—but once this happens, you'll get a new chance to enter whatever area/ zip code you prefer.
Again, as the service itself admits it's a work in progress, the content revealed in a search is understandably somewhat less than tight. Example: Searching for a "DJ" in Manhattan could land you on a nightclub, bar, mobile DJ company or even a cruise featuring a DJ.
On the other hand — as this is what happens when you search in a massive metropolitan area—if take your search to a smaller city, like say Beacon, in Dutchess County, New York, the search turns up but one DJ; but heck, it is an actual DJ as requested, and in your area.
The service also offers reviews for each listing—and if you click on each listing's "See More Reviews" option, you'll be transported to the "Reviews" column on a business's Facebook page. Each FPS listing does feature a single review (which seem to be the best review available).
The current search categories include Arts & Marketing, Automotive, Business Services, Event Planning, Financial Services, Home Improvement, Lifestyle Services, Medical & Health, Pet Service and Spa, Beauty & Personal Care.
Is Facebook Professional Services having any impact? So far, there isn't much social media chatter (even searching "Facebook Professional Services" in Facebook's browser doesn't take you there), but Bloomberg Business is reporting that Yelp Inc. stock dropped a bit more than nine percent Monday, the company's biggest single-day price drop since July 29.