How Snapchat Will Succeed in 2016
As long as it keeps offering unique content, they'll find a way to get investors' money.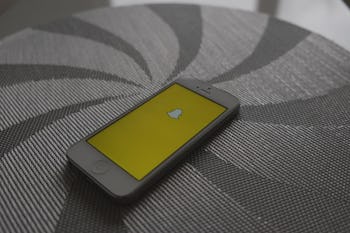 AdamPrzezdziek/Flickr
Snapchat played around with its platform a whole lot in 2015. It opened an original content division and then shuttered it later in the year. It started offering paid content. And, of course, it kept providing fun and original filters. But even with these improvements, how does 2016 look for Snapchat now that it's no longer a gimmick, but a viable platform that people keep throwing money at?
Snapchat continues to have a high valuation — approximately $16 billion — and users are on the app constantly, as they watch videos 6 billion times daily, in total. The question remains, however, what that means to investors and advertisers.
Many prospective business partners, such as General Electric, are concerned about Snapchat's ability to track user engagement, making it difficult to know what a partnership is really worth. GE's manager of global social media marketing Sydney Williams, for example, recently told Fortune, "I'm looking forward to Snapchat coming out with a little more in-depth analytics." But she qualified her statement by adding, "the numbers and engagement on the platform are staggering. This isn't a platform that we can walk away from." And that is why Snapchat will stick around and likely excel in 2016. It's like nothing else.
One way that Snapchat stands out is through its Lenses, the interactive filters that were first introduced in September. Apparently, companies can buy custom Lenses for between $500 and $750k, according to Re/code. From there, though, there's no way of tracking how effective those ads are, or how often the Lenses are being used, despite Snapchat's millions of daily views. Snapchat itself is benefitting from increased cash flow, as it's been reported that it's on track to generate $100 million in revenue this year. But again, that money is going to the platform from the companies, but if the investors don't see similar returns, there's nothing keeping them in Lenses or on the app.
The other place on Snapchat where advertisements can pop up is in the Discover section. For a much smaller price of two cents per view, companies can buy a 10-second spot in between stories on Discover. The program is called Two Pennies, according to Advertising Age, and is designed to show advertisers exactly what returns they're getting, since they'll see how much Snapchat charges them.
And so it almost comes down to faith, as to why Snapchat continues to receive investments — a reported $1.2 billion, in fact — when there's very little to show for it. Snapchat's numbers are growing, so it's just a matter of figuring out just how to convince potential partners that it's worth sticking around to see the spoils.
If Snapchat is going to survive 2016 — which it will — it also needs to continue improving the actual app. There are new features, such as real TV shows on the Discover page. Sofia Vergara, for example, just recently launched a documentary series on Fusion's Snapchat channel. If enough people were to watch, someone would figure out how to monetize it.
Most importantly, perhaps, Snapchat just needs to keep making the actual photos and videos more fun. If the app is not worth using, then it's certainly not worth selling. Given this year's improvements, however, the Snapchat development team should have no trouble figuring out what could use tweaking and what's left to create. Snapchat should continue to thrive. It just can't sleepwalk into the new year.