Snapchat's Latest Video Features Look Great
You can fast-forward, rewind, or slow-mo your videos.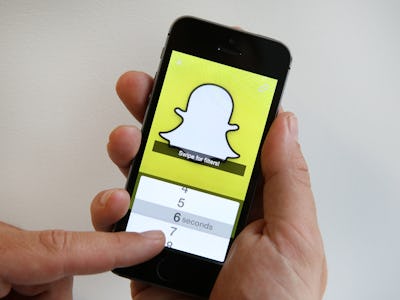 Peter Macdiarmid/Getty Images
Fresh off the invention of Lenses, Snapchat has introduced its latest features: fast-forward, slow-motion, and rewind on videos. All you have to do is take your video — of whatever you want — and the three options will pop up like regular filters. (No need to click on your face, as with Lenses.)
Recently, Snapchat added a monetized feature to the app: the ability to replay a Snap up to three times for 99 cents. The official blog announced the Replays feature, admitting, "They're a little pricey — but time is money! ;)" Although playful, it's true that Snapchat is finding ways to innovate and make money.
The app's Discover feature has found near-immediate success, pulling in more than 4 billion views in September. Even the latest James Bond film, Spectre, has gotten in on the action with its own Discover channel.
While Discover is succeeding, it's not necessarily a part of the Snapchat user's personalized experience. The crux of the platform is taking your own photos and videos. In order to avoid stagnation, Snapchat must continue to find small yet significant ways to provide the user with something new. Additional features don't distract, as they, of course, can be ignored. Fast-forward, rewind, and slow-mo only serve to enhance. It doesn't hurt either that Snapchat, if successful, can start charging for these little gains in experience.