Virtual Reality Dating Will Streamline Romance When Someone Finally Invests
The virtual date will offer face-to-face interaction without costing much time or money. Why isn't Tindr going all in on this thing?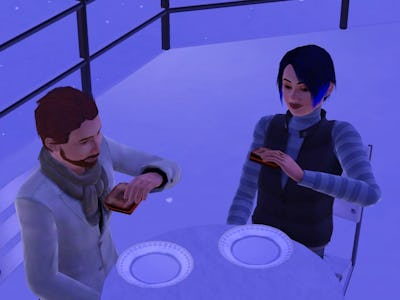 https://www.flickr.com/photos/eurritimia/
OkCupid and Tinder may have made finding a date easy, but the dates themselves can still be an unbearable waste of time. Meeting strangers in cocktails bars is certainly faster than hoping to meet strangers in cocktail bars, but it doesn't pass for a streamlined process because there is not a gradual leveling up of seriousness, swiping then texting, then, quite suddenly, emotional entanglement. There needs to be another step, and VR seems like the ideal technology to make it happen.
That's because VR can create intimacy without requiring potentially awkward or even unsafe in-person interactions, says Paul Hollywood (his real name), the product development director of VR social networking site vTime, which isn't specifically for — but is certainly open to — romance. "A VR date would be quite cool because you wouldn't have to go to the restaurant or the bar," he told Inverse. If you wanted to meet somebody for the first time, you would feel quite secure because you're not really going somewhere, but you can still have that connection."
Think of a VR date as a fully immersive game of The Sims, only even more hormonally charged. Digital lovers will interact via their virtual avatars, meet in virtual spaces, and attempt to make actual sparks fly in virtual museums, restaurants, and bars — from the comfort of their own bedrooms. It won't replace human contact, but it'll serve as an accurate tool for pre-screening, lowering the stakes of a first date but preserving the intimacy needed for relationships to develop. "It's a really humanized version of yourself, even though it's a digital platform," he says. "You can customize these avatars right down to the clothes you wear. You can create a quite accurate representation — or not — of yourself."
He makes a good point: VR daters aren't going to make unattractive avatars. But then again, most Tinder profiles aren't intentionally unappealing, either. VR dating won't make it any harder for people to lie about their looks, but it'll at least make assessing chemistry a lot less painless. "One of the coolest things is getting to drop out of the date at any second," says Hollywood. "No need to climb out of the bathroom window."
Maybe VR dating will make us callous. Or maybe it'll just free up more time to spend seeking true virtual love. In Hollywood's view, the latter is what makes VR so important. "I can see it used quite efficiently as a dating tool," he says, which makes it all the more surprising that none of the big online dating platforms — Match.com, Plenty of Fish, and the like — have adopted it, as far as he knows. Even if they're not ready for it, the public is: In a recent survey, the tech giant Ericsson found that up to one-third of consumers are already down to strap on a VR helmet for online dating. And a recent analysis of dating trends by digital romance behemoth eHarmony predicted that VR dating will be the norm by 2040.
Relationships, ultimately, require two (or more) people to like each other enough to hang out in person. VR dating will help us get to that point — or realize that we never will — faster than ever before. Love in the time of Oculus Rift is going to be a weird and occasionally painfully efficient thing, but the end goal has always remained the same.
"Love is everywhere," says Hollywood. "Even in VR."