Everything We Know About 'Fargo' Season 3 on FX
Vague comments from Noah Hawley point to the future of FX's most reliable and critically acclaimed show.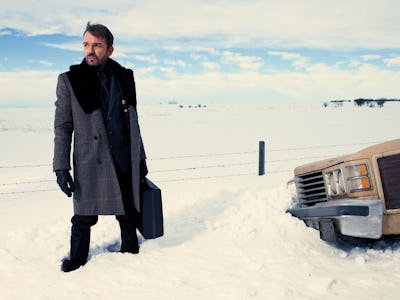 UPDATE: Check out more thoughts from Hawley, and our analysis of them, here.
For the cult of fans of showrunner Noah Hawley's Fargo, it'll be pretty devastating to wait for the show's next season, which was greenlit last month. However, at least we know — because Fargo adopts the anthology format favored by True Detective and American Horror Story — that we won't have to mentally grapple with any cliffhangers. Hawley, in his own off-kilter, Coens-y way, will wrap everything up. We'll be missing the week-to-week excitement, but not answers.
The main result of the show's format is that we have very little idea of what Hawley is planning for next season. He made a few choice comments last week, specifying that the show will return to the present day: "It's more contemporary … set a couple years after Season 1."
Season 1 was set in the recent past — 2006 — in an era of comparatively primitive internet and technological practices. This was especially true since it was staged largely in small towns in the Minnesota area, who adhered to time-tested crime-fighting practices. The location and time period certainly affects the nature of the action. Any advancement in time would undoubtedly involve some slicker crime and police action, though I'm not expecting the Sherlock-style texts popping up on screen. But the prospect of Hawley becoming interested in dealing with more modern crime, political issues, and surveillance tactics seems likely. It's ground he certainly has not covered yet, since Malvo's practices from Season 1 could have really worked at any point in the preceding couple of decades.
Hawley specified also that there would be subtle interconnectivity between the new season and the previous ones:
"There are going to be connections, the way the first year was connected to the > movie and the second year was connected to the first, but I think part of the fun > is figuring that stuff out and I wouldn't want to take that away from anybody."
Mainly through the character of Officer Lou Solverson (Patrick Wilson in Season 2, Keith Carradine in Season 1), some continuity was preserved between seasons. In both, he's central to the action, and a harbinger of doom: a war vet obsessed and ever-wary of man's heart of darkness. The suitcase from the Coens' film also factored into the storyline — particularly Oliver Platt's — in the first season.
There is speculation about whether Molly, the center of Season 1 (Allison Tolman), will return in Season 3, given the proximity in time period. Chances are, knowing Hawley's subtle sensibilities and the patchwork he aims to create within seasons, it seems most likely that her relationship to the action would be more ancillary, if she appears at all. But still, when asked by EW about the return of characters: "Potentially." Perhaps a more Hawley-esque move would be bringing back an aged side character from Season 2 — someone like Charlie Gerhardt, deeply affected by prison one way or the other.
But one hopes that some previous cast members will return to reprise some of the unique chemistry that has formed between the all-star ensembles in both seasons. But trust Hawley to pull together a new cast on the level of this season's — he's done very well so far — though that's a very tall order. Let's hope he's not too busy trying to make Cat's Cradle work to put his all into the process.
In any case, there's one more Fargo left this fall. Let's enjoy it, and keep our eyes peeled there for some final clues.