The 8 Best Free Games of 2015
'Fallout Shelter,' 'Heroes of the Storm,' 'Neverwinter,' and others represent the year's best games.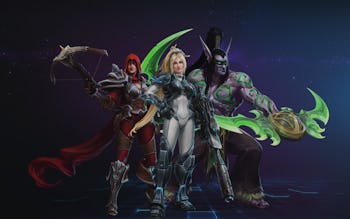 Blizzzard
Gaming is an expensive hobby. New consoles run the mid triple digits, keeping your PC at the forefront takes thousands to maintain, and new games still cost $60 a pop. Is there enough left for rent?
If you're strapped for cash because Christmas is right around the corner (or Hanukkah, happening right now!) take a guide through a select few of 2015's best free games that won't cost you a thing (except for unavoidable microtransactions) until you ring in the new year.
Fallout Shelter
Think The Sims, but Fallout (and with equal amounts of baby-making). Released as a surprise during E3 after Bethesda's presentation, players can waste hours maintaining a vault, ensuring sure the lights stay on, and that vault dwellers are fed, happy, and protected from the outside world. Perhaps the best thing is that it can be played offline, so when the real nuclear apocalypse happens anyone can still be entertained.
You can downoad the game on mobile devices here.
Marvel: Future Fight
Released in April for iOS and Android, Marvel: Future Fight mines the wide-open Marvel universe for a dungeon-crawler action RPG reminiscent of Marvel: Ultimate Alliance. A dying Nick Fury begs you, the player, to find and recruit all the scattered heroes of the Marvel Universe to fight an alliance of Ultron, M.O.D.O.K., and Red Skull. With a roster of three, you can swap out heroes whenever they're unlocked to assemble your dream superhero team. A recent update added Krysten Ritter's Jessica Jones and Chloe Bennet's Daisy from Agents of S.H.I.E.LD. as playable characters.
You can download the game on the App Store and Google Play.
WWE Immortals
Developed by Mortal Kombat developers NetherRealm Studios, WWE Immortals is a fantasy mobile fighting game making bizarre use of the WWE license. John Cena, The Rock, Steve Austin, Triple H, and everyone else in the locker room have been transformed into epic warriors with otherworldly superpowers.
You can download WWE Immortals on the App Store and Google Play.
Neverwinter
Cryptic Studios, the makers of MMORPGs like City of Heroes, have brought the Dungeons and Dragons experience online to the Xbox One. It's not one of the cleanest experiences overall, but it is an impressive — and free — MMO for the console market, which is a rarity.
Neverwinter is available for free on the Xbox Live
HearthStone: Heroes of Warcraft
Blizzard's digital card battle game was released in December 2014, but HearthStone became a standout throughout 2015 and is well on its way to legitimate eSports status.
HearthStone can be downloaded on the official Blizzard website.
Magic: The Gathering — Puzzle Quest
Released just today (December 10th) on the App Store and Google Play, Magic: The Gathering — Puzzle Quest features the match-3 structure of Puzzle Quest using the sprawling Magic mythology.
You can download the game on Google Play and the App Store.
Injustice: Gods Among Us (2015 Update)
Although it was released in 2013, the mobile port of DC and NetherRealm's (again!) fighting game shocked everyone with a massive update in October. With a new "Survivor" mode and seven new characters, including The Flash and Reverse Flash from The CW's The Flash, now is a good time to get back in the fight.
Download on the App Store or Google Play.
Heroes of the Storm
2015 was both a launch and banner year for Blizzard's wildly successful MOBA (?) Heroes of the Storm. If nothing else, remember it as the game that got ESPN viewers really pissed. The pilot tournament held at BlizzCon 2015 cemented Heroes of the Storm's place in eSports, but it can only get bigger in 2016 — and it will.
Available for free on Blizzard's website, an "Invite a friend" incentive program has just been introduced so now you can get your Storm-addicted buddy to shut up and you can play a sweet, free online game that millions are playing. It's win-win.