Serial Is Back, and Looks to Be as Frustrating as Ever
You'll never know why Bowe Bergdahl deserted his US Army platoon in Afghanistan. But you'll still be hooked.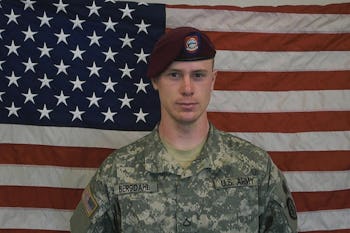 U.S. Army / Getty
The wait is finally over. Serial, the podcast that made "podcast" a household word, has dropped the first episode of season two, revealing what Sarah Koenig and the rest of her team believe is a story big enough to follow the epic drama of Adnan Syed's potential wrongful conviction for the murder of his high school girlfriend.
The story is this: In 2009, U.S. soldier Bowe Bergdahl snuck away from his platoon in Afghanistan under the cover of night, and was captured by the Taliban. When he was released after five years of captivity, national celebration quickly turned sour as many, even among his former unit, called him a deserter and a traitor.
Bergdahl hasn't said much publicly about what happened, until now. Serial teamed up with filmmaker Mark Boal of The Hurt Locker and Zero Dark Thirty fame, gaining access to taped conversations between Bergdahl and Boal that tell his side of the story.
Of course, we'll never know. Only Bergdahl knows for sure what was going through his head when he stepped over the razor wire that night, and we can choose to believe what he tells us about it, or not.
The central question is not what Bergdahl did but why. Were his intentions really to call attention to bad leadership in his platoon, which he believed was putting lives at risks, as he says they were? What are the other theories?
With Serial's first season, things were a little be different. Koenig planted seeds of hope in the first episode that she would somehow stumble upon the piece of conclusive evidence that would clear Syed's name, or perhaps prove his guilt. That hope lingered to nearly the very end, when it started to dawn on you, "Oh shit. She is really not going to give a firm answer on this, is she?"
We can't hope that a new piece of evidence will prove Bergdahl a hero or a traitor, and we can be fairly sure that the actual truth of the matter is somewhere between. Given this inherent messiness, will Koenig manage to keep us hooked, this time around?
The answer is yes. Perhaps not in the massively viral fashion of season one, but the fans will stick around.
The reason? Unbelievable reporting and storytelling.
And cliffhangers. I won't spoil the one from the first episode (you'd kill me) but it amounts to Koenig throwing down her ace-reporter trump card. Bam.