Mech Builder James Capper Has the Name to Know From Art Basel Miami
A hydraulic, robotic, 2,000-pound arachnoid took the art world by force.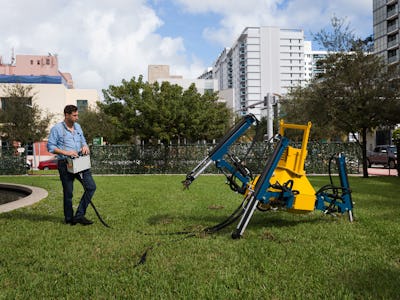 Paul Kasmin Gallery
Down at Art Basel Miami, sculpturist James Capper is making waves — and divots. Capper, through his art, explores the overlap of industry, environment, and aesthetics. He's roughly one-third hydraulic engineer, one-third choreographer, and one-third incompetent landscaper. Cumulatively, he's a cool artist from London who makes crazy robotic arachnoids.
Using remote-controlled hydraulics, Capper gradually moves his machines around their environments. These moving machines — "Earth Markers" — leave a trail marking their progress and turning the ground beneath them into a sort of canvas.
"Mountaineer Prototype," Capper's exhibit at Art Basel Miami, is a 2,000-pound hydraulic robot.
It's called "Mountaineer Prototype" for a reason: he hopes to recreate the machine on a much larger scale. Don't let massive, potentially world-dominating robots into your nightmares, though: This is art. It's just art.
"Mountaineer Prototype" isn't the lone mech in Capper's menagerie, but it's the most intimidating. For now.