Watch 8 New 'Hateful Eight' Clips Before Seeing It in 70mm
The tiny videos probably won't do the movie any justice, but they're still worth checking out.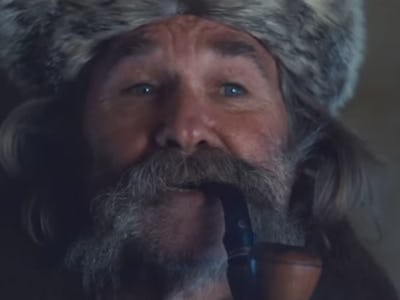 YouTube
Geeks everywhere may be in a tizzy over Star Wars coming out December 18, but the cinephiles out there are also pumped for a movie that drops just a week later.
Quentin Tarantino's new movie The Hateful Eight will arrive in select theaters on Christmas Day in the super-wide Ultra Panavision 70mm format, which hasn't graced screens in over 40 years.
We know the lucky few who will be able to see the movie that way will wait to check it out in all its celluloid glory, but those who want to get a better sense of Tarantino's whip-smart dialogue can check out a set of puny — but still promising — clips from the movie that have just been uploaded to YouTube.
If you'll allow us a brief moment to explain: In its Ultra Panavision form, The Hateful Eight will be projected at an aspect ratio of 2.76:1, which means for every foot of height on the screen there will be 2.76 feet of width. In case you don't understand, that means it's very big and very wide. YouTube videos are shown in the still respectable widescreen aspect ratio of 1.78:1, which, remember, are just on your computer screen.
There's going to be a big difference between watching this movie on your computer versus seeing it play out on a gigantic screen, so don't expect these little tidbits to show off any real cinematic oomph or reveal any plot clues beyond what we already know.
Instead, the clips are still worth checking out because they give us a better sense of the intense tête-à-têtes between the titular group of outlaws that populate Tarantino's latest Western. They specifically make us super excited to see Tarantino vets Kurt Russell and Samuel L. Jackson square off:
Check out the rest of the clips below:
Just in case you didn't know, get yourself to the theater in these select cinemas on Christmas day for limited showings of The Hateful Eight on 70mm before the movie is released nationwide on January 8.