A Guide to 2015's Best and Weirdest New Christmas Albums
Sharon Jones, Kylie Minogue, Toni Braxton and more for your family gatherings.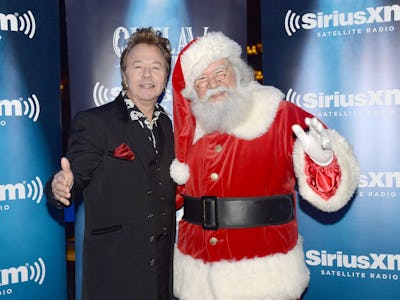 Facebook
It's time. Maybe you're partial to Perry Como, Bing, Mariah, or Charlie Brown, and feel like you don't need a yearly overhaul, or a new second string favorite X-mas mix for tree trimming and Christmas ham-making. But maybe one of the year's new, typically weird batch will suit you.
Sharon Jones and the Dap-Kings
Let's start off with a reliable one: If you or your parents like good, old-fashioned soul and R&B, you probably already know of NYC-based belter Sharon Jones' stunning updates of templates borne in the '60s and '70s. Her Christmas album, It's a Holiday Soul Party features standards as well as several appealing detours, a Hanukkah anthem to start and then an Isaac Hayes-y track called "Ain't No Chimneys in the Projects." This isn't your basic treacly Christmas album, and it's full of fantastic, full-bodied arrangements, as well as always-impassioned vocal performances from Jones. Below is a music video to sell you.
Purchase the album here.
Kenny Rogers
"The Gambler" hitmaker and silver fox archetype is getting toward 80, and announced his retirement come this Christmas, after the conclusion of his world tour. So Rogers' sixth X-mas offering of his formidable career might be a bit sad for your blood, functioning as it does as a brokedown goodbye. The album and its title track pack the perfect title, implying A) once again, it's Christmas and B) another year in a long, twang-filled life.
Purchase the album here.
The Braxton Family
Highly recommended. Fans of smoother, '90s R&B (see also: "adult contemporary") will enjoy this sleek and somber offering from "Unbreak My Heart" and "He Wasn't Man Enough" star Toni Braxton and her sisters. Traci, Towanda, Trina, and Tamar were like Destiny's Child to Toni's Beyoncé in the '80s, and here the storied quintet is reunited, over lush synths and slow-jam backbeats perfect for snuggling up with your loved one on a bearskin rug in front of the yuletide hearth.
Purchase the album here.
Kylie Minogue
The Australian chanteuse has been known to offer her share of lascivious Christmas jams. Just look:
Even Eartha Kitt would blush. But November's Kylie Christmas is her first full-length holiday album. Yep, she revisits "Santa Baby," but there are plenty of other classics, sometimes imbued with her signature house beats and haunting synths and sometimes with jazz combo arrangements (there's a Frank Sinatra vocal pasted into "Santa Claus is Coming to Town"). Oh yeah, and "Christmas Wrapping" with Iggy Pop.
All things considered, this is gonna be your best bet for a turn-up album this advent.
Here's a winter single Kylie and her sister dropped, all about keeping it steamy in the club in the colder months — kind of her update on "Baby It's Cold Outside" if it was written by the Scissor Sisters:
Purchase the album here.
Brian Setzer Orchestra
Have you thought about the swing revival recently? I have, in idle moments. What are Big Bad Voodoo Daddy and Brian Setzer up to these days? Well, to the latter question, we have a very festive answer! The former Stray Cats frontman has done at least two Christmas albums in the past, and currently is out on his 12th ANNUAL Christmas Rocks! tour. Damn, Setzer! He's a savvy guy who know how to pay the bills, as well as how to swing and rock hard.
This year, his recorded offering, though, is a set called Rockin' Rudolph. Give "Yabba-Dabba Yuletide" a try, if you're a few nogs in:
Purchase it here. You won't do it.
Also, don't forget about that new Train joint! Happy Holidays!