Train Has a Christmas Album and You Cannot Stop It
The Real War on Christmas Begins.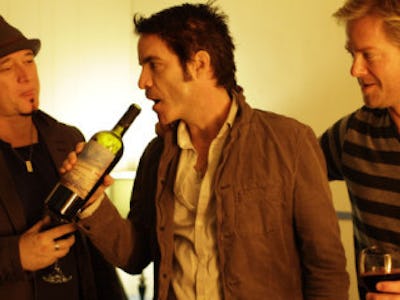 I'm writing this one sober because I'm afraid of what might happen if I let the darkness out. Welcome to the real War on Christmas everyone: The band Train has released a holiday album and your elected officials refuse to prevent it.
Christmas In Tahoe, which is the actual title of a real album you can own, is described thusly:
Train, which has had 13 songs on Billboard's Hot 100 list since the release of their debut self-titled album, has put their signature sound and spin on holiday classics such as Donny Hathaway's "This Christmas" and Stevie Wonder's "What Christmas Means To Me." Newly recorded versions of Elvis Presley's "Santa Bring My Baby Back (To Me)," John Lennon's "Happy Xmas (War Is Over)" and the Hawaiian-themed Christmas song written by Robert Alex Anderson, "Mele Kalikimaka" are tracks that can only be found on Amazon. The album also includes original holiday music sure to become holiday favorites, including the sunny disposition of "Christmas Island," the melancholy yearning and country shuffle of "Wait For Mary Christmas," and the rhythmic wordplay of "Shake Up Christmas." Pat Monahan, lead vocalist of Train, said about the project, "Christmas in Tahoe has been a part of Train's journey that's been in the making for quite some time."*
The very-not-made-up Train Christmas album is the first in a series of "Amazon Music Originals" that marks the distribution giant's foray into original music production, to rival the leaps they've made in recent episodic television production. Except this time, instead of making Transparent they made a Train album of Christmas songs; a cultural touchstone we cannot unmake.
Amazon Prime members already own the album, much like the famously beloved U2 album iTunes users rioted over last year. Physical copies are also available, but more importantly there's a $45 box set that includes Train Christmas ornaments and a stocking for the band Train that you can hang over your own fireplace in case you want to trick Santa into believing Train lives in your house. And if they're crashing on your couch right now, maybe that's a very valuable thing to own.
There are fifteen tracks on the— does anyone's chest feel heavy? Not like a heart attack, but like there's something— do you smell toast? I smell toast. And this is the internet, not a real space, so that's odd. You know what? I'll work through it.
Here's the only Amazon commenter, delighting in the value of the Train Christmas Bundle.
Yeah. In no way is that the lead singer of Train commenting on this bundle. That's a real person that actually exists, just like a full album of music celebrating the birth of Jesus Christ, as recorded by the band Train, in direct defiance of the existence of a just and loving God.
This isn't the end of the story, though it may be the end of civilization. This is also the jumping off point to announce a line of Train based wines, also available through Amazon. From the press release:
Save Me, San Francisco Wine Co. is a collaboration between the Grammy Award-winning band Train and winemaker James Foster, created in 2011 to bring to life the band's passion for connecting with friends and fans through music and wine. James Foster has worked in winemaking for more than 13 years, and brings this experience to crafting award-winning wines for Save Me, San Francisco Wine Co. Its portfolio of California wines include "Drops of Jupiter" Red Blend, "Soul Sister" Pinot Noir, "California 37" Cabernet Sauvignon, "Hella Fine" Merlot, "Calling All Angels" Chardonnay and "Bulletproof Picasso" Sauvignon Blanc. "Our wines were inspired by a deep love of storytelling and a passion for adventure," said Jimmy Stafford, lead guitarist for Train. "This new adventure allows Save Me, San Francisco Wine Co. to expand the way in which our wines connect people to each other by helping us foster relationships and memories with those we meet across the country."*
I'm not making this up. I'm really not. I wish I was. I wish I could take it all back. I wish I could be a baby again. I want to invent a time machine and go back in time to make time not happen. Maybe that's what "Drops of Jupiter" taste like? Maybe I need to buy all of these wines and the Christmas album and the giant holiday fireplace sock and together they'll unlock the secret of true happiness? I want to taste Train. I want to know their flavor.
Thanks to Amazon, A Very Train Christmas is a future you cannot stop. Might have to take myself out — after all, Heaven is overrated.