New 'Street Fighter V' Character F.A.N.G. Officially Revealed at PlayStation Experience
Member of an evil shadow organization, he has a "tricky and deceptive" fighting style.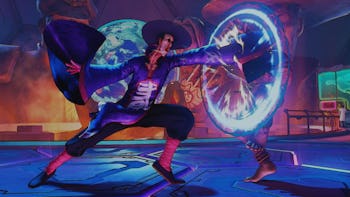 A year ago at Playstation Experience, Capcom developer Yoshinori Ono announced they were working on Street Fighter V and today, wearing giant Ryu fighting gloves and with a barely controlled enthusiasm, Ono officially debuted an already-leaked new character and announced the on-sale date for the game: February 16, 2016.
Tall and spindly, with an annoying and villainous high-pitched voice, F.A.N.G.'s — pronounced as "Fong" in the game — a member of an evil shadow organization who uses a tricky and deceptive fighting style, Ono told the cheering crowd at the San Francisco-based event.
From the Capcom website, this official bio was uploaded just now:
"F.A.N.G is an assassin whose unique poison attacks leave him second only to M. Bison himself! Besides overseeing Shadaloo's operations, his true passion comes from the evil experiments conducted within Shadaloo's research facilities."
"F.A.N.G introduces a series first mechanic; poison. Whenever his poison attacks connect, they continuously deal damage to the opponent's life bar until he gets hit or the poison runs its course. F.A.N.G's sinister long range attacks and slippery movements, paired with his ability to poison, will leave his opponents feeling ill."
"V-Skill: Nishodoku: F.A.N.G sends out a slow moving poison-filled projectile. If it makes contact with the opponent, it will begin to slowly deal damage."
>" V-Trigger: Dokunomu: The ultimate defense, F.A.N.G emits a poisonous cloud around his body that constantly deals damage to the opponent as long as they're near him."
Simultaneously, Capcom uploaded the official reveal video to its YouTube channel:
Capcom also uploaded photos to its Facebook page, a few of which are here:
Also already-leaked but announced officially today: The identities of six additional characters available post-launch: Alex, Guile, Ibuki, Juri, and Urien. They will be available via gameplay, but if you want to just skip all that work, you can of course buy the characters with a season pass.
"Sell out!" cried a few people in the live comment stream on Twitch. That may be, but sometimes you really just want to play as Guile.