Read Comics Like 'Batman' and 'Batman Teenage Mutant Ninja Turtles' This Week
And Green Lantern finishes his mission with the Starship Enterprise, while Maika's journey in 'Monstress' continues.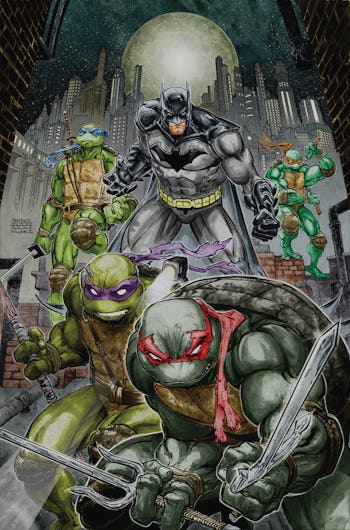 IDW Comics, DC Comics
Welcome to The Pull List, Inverse's weekly roundup of new comic book releases worth picking up. Whether you're a longtime fan or a newbie reader, let us guide you through today's hottest issues that will be tomorrow's classics. This week, Batman and the Ninja Turtles get together in an official crossover while some of the year's biggest stories reach their conclusions.*
Batman/Teenage Mutant Ninja Turtles #1
Yes, this is real. DC and IDW have joined forces with writer James Tynion IV (Constantine: The Hellblazer) penning the script and Freddie Williams II as the series' artist. The Foot have crossed dimensions into Gotham City with the Ninja Turtles not far on their trail. And no one in Gotham can ever avoid crossing paths with a certain Dark Knight.
Batman #47
Meanwhile, in the primary DC Universe, Scott Snyder continues his blockbuster Batman with Gordon fighting Mr. Bloom while Bruce Wayne makes a life-changing discovery.
The Amazing Spider-Man #4
Most of the Marvel universe have become all-new and all-different, but Spider-Man remains same. In issue #4 of the new Amazing Spider-Man, Peter Parker swings all the way to Africa to hunt down a wild Goblin.
The "Secret Wars" summer event isn't going to end until early 2016 (Yeah, I know) but the penultimate issue comes out this week. The final battle of God Doom looms ahead.
Marjorie Liu's Monstress may be one of the heaviest, richest, most draining comics I've read this year. An overwhelming sense of dread evocative of Lovecraft stopped me from reading a single issue in one sitting. If Liu keeps it up through #2 I might not make it to 2016.
We Stand on Guard #6
Saga scribe Brian K. Vaughan has penned other projects this year, the speculative future mech series We Stand On Guard among them. What's going to happen next in war-torn Canada? (By the way, you should read this because it's about war-torn Canada.)
While Batman and the Ninja Turtles join forces, Mike Johnson's run on the combined Green Lantern and the crew of the Enterprise (Abrams continuity) conclude in the last issue of "The Spectrum War."
Ninjak begins a whole new arc with issue #10. After only one out of a team of 20 agents come back from a mission through a parallel dimension, MI6 recruits the one and only Ninjak to retrace the fallen team's steps in the mysterious world called "Deadside." Just what happened there?