eBay's Pierre Omidyar's Philanthropic Firm to Invest $350 Million in India 
The goal is to support small firms in a huge, growing tech market.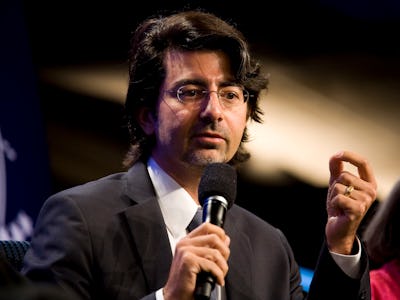 Getty
Did you expect eBay founder Pierre Omidyar to just chill while his fellow [web moguls]((https://www.inverse.com/article/8724-mark-zuckerberg-will-put-99-percent-of-his-facebook-stock-to-advancing-human-potential) got all the credit for using their fortunes to make the world a better place? You think this is a game?
The billionaire's philanthropic firm the Omidyar Network announced it will more than double its investments in India by 2020, going from its current $160 million in for-profit ventures and non-profit organizations to $350 million by 2020.
Omidyar's India investments have included employability assessment firm Aspiring Minds, an online classifieds portal called Quikr, and the train travel tech startup RailYatri. This fresh influx of cash should be going to struggling firms that need it the most.
"Our experience after eleven years in impact investing in emerging markets is that one can get strong returns and make a tremendous difference in people's lives by focusing on the low and lower-middle income populations," partner Roopa Kudva told Business Standard. "There are a range of investing strategies investors can explore directed at those earning between $2 and $8 per day as they make impact investing a truly viable part of their portfolios."
This must be welcome news to Indian Prime Minister Narendra Modi, who this September went on a tour of courting tech firms to increase investments in his country. With only 300 million of the country's 1.25 billion population regularly logging onto the internet — and only on the world's slowest connections — there's a massive tech infrastructure just waiting to be built.