'Krampus' vs. Katniss: This Week's Box Office Predictions
Will audiences favor Jennifer Lawrence or an evil Christmas goat demon?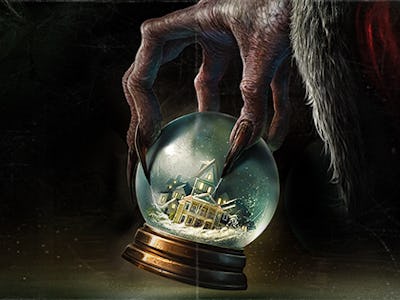 Adam Scott and Toni Collette Star in Krampus
The post-Thanksgiving, pre-Star Wars season is upon us. Spectre made a splash and inched its way to become the second-highest grossing 007 movie of all time. The Martian is past its prime but surviving on Matt Damon Oscar talk. Bridge of Spies is still attracting the AARP members looking for their matinee discounts, and the Hunger Games finale is pulling in the tweens after their moms drop them off at the multiplex on a Friday night. Brace yourselves, here's what to expect this weekend at the movies.
What Will Win: The Hunger Games: Mockingjay - Part 2
Will she go for the threepeat? Yes, yes she will. Despite the fact that Part 2 underperformed compared to the other three movies in the Hunger Games franchise, Katniss Everdeen's last onscreen go-round is staying hangry. It was able to fend off Pixar's The Good Dinosaur over the Thanksgiving holiday weekend that was its biggest competition, and without any other movie at the moment to pull in the young-adult crowd Mockingjay - Part 2 is poised to hold the No. 1 spot. Going into week three, expect it to closely mirror the grosses of Mockingjay - Part 1 to pull in somewhere south of $20 million.
What Will Disappoint: Krampus
High-concept horror movies like Krampus are destined to disappoint in cineplexes before recouping their costs via home video or on Netflix. So look for about a $13 million haul this weekend, not exactly a bonanza to fans of the genre. A Christmas-themed horror movie about a kid who summons an evil demon because his family doesn't know the meaning of Christmas may not seem like something that will give The Hunger Games a run for its money, but as the only other wide release this weekend, welp, that's the race. The movie at least has the timing right — already it's easy to be jaded against Christmas music — and its cast, led by Adam Scott and Anchorman's David Koechner, is solid. If the movie sounds at least absurd enough for you to be mildly interested, chances are you'll see it eventually.
What Will Surprise People: Creed
Critics love Creed. We love Creed. You should love Creed too. Director Ryan Coogler's spinoff of the long-running and longer-dormant Rocky franchise somehow capture and update the underdog spirit of the original. The box office order should repeat this weekend, with Creed behind Mockingjay - Part 2 and The Good Dinosaur, but the buzz on the boxing movie should give it a steady and healthy boost for the weeks to come. It already made back its $35 million budget in one week of release, so it's money in the bank from here on out.
What's on the Horizon: In the Heart of the Sea*
Ron Howard is a peculiar figure in Hollywood. He can command a cult TV show or a medium-budget movie about two Formula 1 racers in the 1970s. But he's not held in a high regard like some of his peers. As far as we're concerned if you're the guy who made a straight up classic like Apollo 13 you can do whatever you want. Howard chose to adapt the real-life story of the whaling ship Essex, which in turn inspired Herman Melville to write Moby Dick. The trailers make it seem like a superhero-fied version of the white whale story — not just because Thor himself, Chris Hemsworth, plays the lead — which makes it look cheesy. But survival stories like this or The Martian have done well recently, and it's something to watch before Star Wars hits on December 18. Everything leads to Star Wars, even this movie about 19th century whalers.