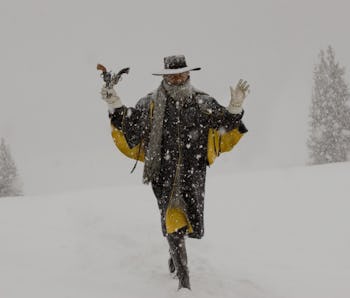 Entertainment
The 70mm Projector Didn't Work at an Early 'Hateful Eight' Screening 
HitFix writer Drew McWeeny reported that the projector didn't function, causing the second half of Quentin Tarantino's new film to be projected digitally.  
The Weinstein Company
When moviegoers plop down in their seats this Christmas at one of the 96 theaters across the country showing The Hateful Eight, the eighth film from director Quentin Tarantino, the last thing they would want to see is the film running through the projector burn up in front of them onscreen.
It's something that Tarantino and the film's studio, the Weinstein Company, are hedging their bets against as they initially present the movie in Ultra Panavision 70mm film, a format that hasn't been used in a movie for over 40 years.
If a report from an early press screening is any indication, their experiment may be over before it even begins.
According to writer Drew McWeeny from HitFix, the specially equipped projector at the Majestic Crest Theatre in the Westwood neighborhood of Los Angeles that was outfitted to be able to show the wide film format didn't work properly as soon as the movie started.
"From the moment the film began with the OVERTURE card depicting a horse-drawn carriage riding through snow in front of a stylized mountain range, Ennio Morricone's big lush score creeping in, there was a problem," McWeeny explained. "The carriage was in the center of the screen, towards the lower third of the image, and right there, almost framing the carriage, was a soft-focus spot that kept dilating in and out of focus."
When the film stopped for an intermission, (because of course Quentin Tarantino included an intermission in his new movie) McWeeny and other members of the press attending the screening complained about the focus issue. When the second half of the movie started, they were informed the rest of The Hateful Eight would be shown digitally. This problem isn't a big deal in the long run, but it could spell doom for Tarantino's loud preference of film over digital projection.
When McWeeny tweeted about the 70mm SNAFU, someone chimed in saying the same thing happened at a recent New York screening as well:
In the lead up to this initial 70mm run of *The Hateful Eight, the Weinstein Company helped theaters locate a refurbish old projector equipment just so the theaters would be able to show the movie. One mistake won't ruin the whole thing, and digital projectors could just as easily get a glitch or something and ruin an audience's night at the movies as well, but mistakes like this can't happen now more than ever. Studios won't put up with it, and audiences definitely won't put up with it either.
If you go to a movie as if it were an event, you at least expect to be able to see the movie for the spectacle that it's supposed to be.