NASA Releases Hype Video for the Valkyries, Its Mars-Landing Robots
The face of Mars colonization isn't going to be human, just humanoid.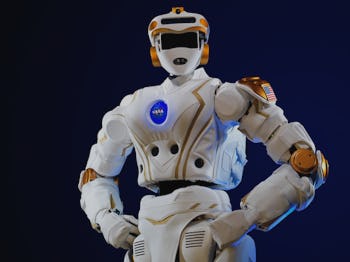 NASA
NASA's R5 model, dubbed Valkyrie for the Norse spirits that ushered the brave to Valhalla, is designed to withstand extreme environments and work in deep space. Despite their humanoid forms (great for publicity, but wildly impractical), these autonomous explorers are the prohibitive favorite for the job of Mars settlement, a job NASA administrator Charles Bolden says will be initially accomplished by a crew of robots. In an apparent attempt to get the general public excited about non-human astronauts ("astrobots" feels like an inevitable neologism) NASA has dropped a hype vid. And it's damn cool.
"You won't find the latest robot in the #BlackFriday frenzy," NASA's YouTube account taunts. And while that may not be the most dignified approach to publicizing exciting tech, we get where the swagger is coming from. The Valkyrie is a hell of a bot.
It is dexterous.
It knows karate.
It works out.
It can express ambivalence.
This won't be the end of the NASA videos, especially if Bowden and his lot feel the need to generate public excitement — something that's harder to do without human representatives. Valkyrie has to be more than an astrobot; it has to be a mascot.