The 'Ecto Cooler' Returns from the Dead
The sweet drink with Slimer's lumpy face has been given new life in time for the upcoming "Ghostbusters" film.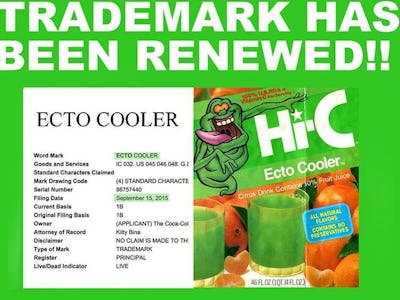 instagram.com/littlestwinslowblog
Gen X fans of sugary juice can rejoice: The Ecto Cooler shall return.
It's not news that [a new Ghostbusters film](https://en.wikipedia.org/wiki/Ghostbusters(2016_film) is in the works—and tying promotional food and drink into the arrival of a film is common practice. But for the _'Busters movie, Coca-Cola has moved to spike the fires of nostalgia by bringing back the Hi-C brand "Ecto Cooler," a one-time citrus beverage easily spotted by its use of Slimer on its packaging.
Slimer, although briefly appearing in the original Ghostbusters and its sequel, was really a creature born of the adapted animated series. The "Slimer" of the films had no friendly interaction with the Ghostbusting characters in the first movie—it was the green blob that "slimed" Bill Murray—and in the second film it did sort-of check in with Louis Tulley (Rick Moranis).
However, the cartoon made Slimer a friendly ghost and soon became as recognizable a part of the Ghostbusters universe as anything else in the movies or animated show. The Hi-C drink debuted in 1987, and stuck around as the Ecto-Cooler until 2001.
Coca-Cola filed a trademark patent in September, which was recently approved.
This may or may not be massive news for the casual Ghostbusters fan, but for these people it's like cats and dogs, living together, mass hysteria-big: